Site News
Warning: This wiki contains spoilers. Read at your own risk!


Social media: If you would like, please join our Discord server, and/or follow us on Twitter or Tumblr!

Engage info: As the game has only recently released, we lack much key information. Please help add any info that you can.
Ram
From Fire Emblem Wiki, your source on Fire Emblem information. By fans, for fans.
| | |
| --- | --- |
| | It has been requested that image(s) be placed in this page or section. Please submit images to help improve this page and talk on this page's talk page about what images are needed. Remove this when this has been fixed. |
Ram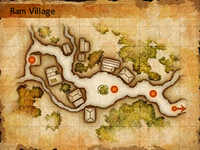 ---
A small remote village at Valentia's southern extreme.
| | |
| --- | --- |
| Chapter(s) | |
| Country | |
| Appearance(s) | |
Ram is a location in south-western Zofia, visited on Alm's route of the game.
Exploration
Gaiden Echoes: Shadows of Valentia
Gaiden Echoes: Shadows of Valentia
Characters
New Units
Available Characters
None
Item data
Strategy
This section details unofficial strategies that may help with completion of the chapter. This may not work for everybody.
This is the first area of Act 1 for both Gaiden and Shadows of Valentia. It introduces the exploration mechanics unique to either game, though there is much more to find in Shadows of Valentia.
Gaiden opens with Alm sparring with Mycen; after a moment Mycen will tell Alm to take a break and the player is given control to move Alm around the map. To progress speak to Lukas, the red-clad man blocking the village's exit, then speak to Mycen, then to Lukas again. You may now leave the village and the three villagers, Kliff, Tobin, and Gray, may now be recruited by speaking to them. If you do not recruit Gray, Tobin, Kliff, or Faye immediately, you may return to Ram as Alm and recruit them later. Additionally, Celica has the opportunity to visit Ram before the conclusion of Act 2 where she may recruit them instead.
In Shadows of Valentia, the same basic sequence of events takes place, though now Gray and Tobin will join with Lukas, while Kliff and Faye will join if spoken too. Additionally, you may speak to a Greedy Old Man in the Square to start your first sidequest, "The Sommelier". He wants a bottle of Ram Wine and will reward you with Blue Cheese. Upon speaking to the man again after completing it, a Mila Carving will appear in the Thieves' Shrine. You can also start the next quest, "The Wages of Sin", by talking to an Indignant Woman after defeating the Brigand Boss. She wants you to defeat 20 Brigands and will reward you with a Fruit of Life. It is not recommended to attempt to complete "The Wages of Sin" when it is first accepted in a Blitzkrieg run. By the time Celica can access Ram, she has built up enough of a brigand body count to fulfill the requirement.
Flavor text
Game
Text
(English)
Text
(Japanese)

Echoes: Shadows of Valentia

A small remote
village at Valentia's
southern extreme.
バレンシア大陸の
南端部に位置する、
辺境の小さな村。
Etymology and other languages
Names, etymology and in other regions
Language
Name
Definition, etymology, and notes
English

Ram

Potentially from "ram", a term for male sheep; a number of sheep can be seen outside of Mycen's house in Shadows of Valentia.

Japanese

ラム

Ram

Spanish

Mardán

An Aragonese term for a ram.

French

Ram

As above.

German

Ram

As above.

Italian

Ram

As above.

Dutch

Ram

As above.

Portuguese
(Brazil)

Ram

Used in Heroes.[1]

Korean

람

Ram

Simplified Chinese

拉姆

Ram

Traditional Chinese

拉姆

Ram
Gallery
References
↑ "

Um jovem guerreiro, corajoso e gentil, criado por Mycen no vilarejo de Ram.

" — Help text description of Alm: Hero of Prophecy, Fire Emblem Heroes