Site News
Warning: This wiki contains spoilers. Read at your own risk!


Social media: If you would like, please join our Discord server, and/or follow us on Twitter or Tumblr!

Engage info: As the game has only recently released, we lack much key information. Please help add any info that you can.
Mila's Turnwheel
From Fire Emblem Wiki, your source on Fire Emblem information. By fans, for fans.
Mila's Turnwheel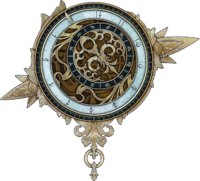 Artwork of Alm's version of Mila's Turnwheel.
---
A wheel that grants the Mother Mila's foresight.
| | | | |
| --- | --- | --- | --- |
| " | The Mother is either telling you what could be...or what once was. Her power is sight. | " | — Silque |
Mila's Turnwheel (Japanese: ミラの歯車 Mila's Gear) is the name of two artifacts associated with the goddess Mila appearing in Fire Emblem Echoes: Shadows of Valentia. It has several gameplay functions, being related to amiibo support and the limited ability to rewind turns in battle to undo unit actions.
Role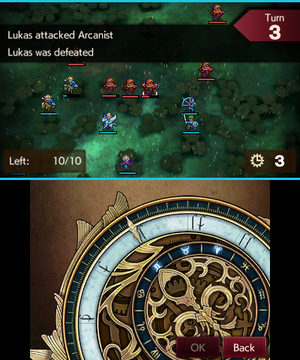 Two Turnwheels are known to exist. Before the events of the game both were stored at the temple on Novis.
Eventually, Silque sets out from Novis[1] to deliver one of them to Mycen, but is waylaid and whisked away to the Thieves' Shrine by a pack of bandits. She gives it to Alm, the eventual intended recipient, after being rescued by him and learning that he has already set out on his journey with the Deliverance. If Alm never rescued Silque he will instead receive it from a deliveryman at Zofia Castle.[2] The second remained at the priory on Novis after Silque's departure; Celica brings it with her at the start of her journey.
After Alm and Celica are reunited during Act 5, two Turnwheels are used to unlock the final door at Duma's Altar.
Overview
Rewinding turns
Mila's Turnwheel can be used to rewind turns and undo actions that have proven detrimental to the player. This can even be used to save characters that have died in classic mode due to tactical error.[3] The Turnwheel can be used to rewind time to any point during a battle, including midway through a turn; it may even be used to rewind a battle to its beginning, if the player wishes. The Turnwheel may only be used a limited number of times in each battle or dungeon; it may initially be used only three times, but this number can be increased by finding Cogs, up to a maximum of 12 uses. Once an action is undone, it cannot be redone using the Turnwheel.
The Turnwheel may only record a limited number of actions in each battle; after this limit is exceeded, the Turnwheel can no longer be used during that battle. The player will be notified shortly before this happens, by a message stating that "the Turnwheel made a sound".
For battles on the world map, Turnwheel uses will refresh after every battle. Inside dungeons, Turnwheel uses will be refreshed after exiting the dungeon, or by offering an alcoholic provision at a Mila Shrine.
Memory Prisms
Main article: Mila's Turnwheel/Memory Prisms
Items called Memory Prisms can be found throughout the game. Using Mila's Turnwheel, these fragments can be seen; they show past experiences of characters and expand on their lives before joining Alm and Celica. These fragments can also be from the distant past, with one prism, for example, being Mila and Duma's memories of the forging of their accord.
There are a total of ten memories to find throughout the game, featuring the memories of playable characters, NPCs, and even some antagonists.
Support Log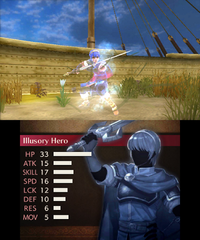 Mila's Turnwheel can be used to view any support conversation the player has previously unlocked.
amiibo
While on the world map, Mila's Turnwheel can be used to access the Mila's Ordeals and Duma's Ordeals dungeons, if the player owns the Celica and Alm amiibo respectively. It may also write Alm and Celica's current stats to their respective amiibo, and during battle, these amiibo may be used to summon ghostly versions of their respective characters to battle for a single turn.
Mila's Turnwheel can be used to summon temporary allies from amiibo figurines to aid in combat for one turn, at the cost of some of Alm or Celica's HP. These ghostly warriors are fleeting, only appearing for a single turn. The Marth, Robin, Lucina, Roy, Ike, and both the standard and "Player 2" versions of the Corrin amiibo all summon illusory heroes in that character's likeness. Other amiibo are compatible with this feature as well, however amiibo without custom summoned phantoms summon an allied monster instead.[4]
Item data
Skill data
Game
Icon
Effect
Activation

Capacity

Notes

Heroes

Inflicts Isolation status on enemies in a cardinal direction from user with Defense less than user's Defense at start of user's phase (enemy cannot use or be targeted by assist skills through their following actions).
If user is deployed on an Aether Raids offensive team during light season, increases the battle's turn limit by 1.
--
--
Cost: 300 SP
Locations
Echoes: Shadows of Valentia
Alm's party
Received from Silque at the Thieves' Shrine.
Received from a peddler at the start of Act 3 if not received from Silque.
Celica's party
Automatically from the start of Act 2.
Heroes
Flavor text
Game
Text
(English)
Text
(Japanese)

Echoes: Shadows of Valentia

A wheel that grants the
Mother Mila's foresight.
大地母神ミラの力を
秘めている歯車

Heroes

At start of turn, inflicts【Isolation】on foes in
cardinal directions with Def < unit's Def through
their next actions.

If deployed in Aether Raids offense during Light
season, grants Turn Limit+1. (If the Turn Limit
is 7, it will increase to 8, etc.)

【Isolation】
Target cannot use or be the target of Assist
skills through its next action. (Target can
neither use nor be the target of skills like
Dance and Sing, skills that neutralize penalties,
like Restore and Harsh Command+, etc.)
ターン開始時、十字方向の自身より守備が1以上低い
敵に【補助不可】を付与

光シーズンの飛空城攻撃で出撃時、ターン制限+1
(ターン制限の7ターンが、8ターン以上になる)

【補助不可】
自分は補助スキルを使用できず、
仲間から補助スキルを受けることもできない状態異常
(敵の次回行動終了まで)
(不利な状態異常を解除する「レスト」「一喝+」等の
補助スキルを受けることもできない)
(補助スキル「踊る」「歌う」も使用できなくなる)
Etymology and other languages
Names, etymology and in other regions
Language
Name
Definition, etymology, and notes
English

Mila's Turnwheel

--

Japanese

ミラの歯車

Mila's Gear

Spanish

Rueda de Mila

Mila's Wheel

French

Horloge de Mila

Mila's Clock

German

Milas Zeitenrad

Mila's time wheel

Italian

Ruota di Mila

Mila's Wheel

Dutch

Mila's Wiel

Mila's Wheel

Portuguese
(Brazil)

Roda de Mila

Mila's wheel

Korean

미라의 톱니

Mila's Gear

Simplified Chinese

米拉齿轮

Mila gear

Traditional Chinese

Mila gear; used in Shadows of Valentia.
Mila's gear; used in Heroes.
Gallery
References
See also
Type C passive skills in Heroes