Site News
Warning: This wiki contains spoilers. Read at your own risk!


Discord and Twitter: If you would like, please join our Discord server, and/or follow us on Twitter at @FEWikiOfficial!
Fire Emblem Cipher/Beyond the Rivalry
From Fire Emblem Wiki, your source on Fire Emblem information. By fans, for fans.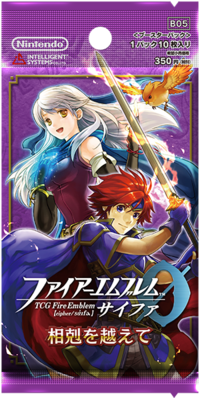 Beyond the Rivalry (Japanese: 相剋を越えて Beyond the Rivalry) is the fifth booster series released for Fire Emblem Cipher. It primarily features characters from Fire Emblem: The Binding Blade and Fire Emblem: Radiant Dawn, and introducing new Cipher mascot Randal into the cardpool. This series was released aside one assocated starter deck, Binding Disturbance Chapter, on June 23rd, 2016 in Japan. The retail price for individual booster packs is ¥350 plus tax.
Starting with this series, select foil R+ and SR+ alternate prints feature alternative artwork in comparison to the non-foil R and SR primary prints.
This booster series is part of season 2, and will no longer be legal in competitive play sometime in May 2020.
As with all of Cipher, the cards featured here has been printed only in Japanese and have only been released in Japan.
Overview
This booster series can be divided into two halves. The first half, consisting of cards 1-50 and denoted with

, focus primarily on characters from The Binding Blade; the second half, consisting of cards 51-100 and denoted with

, focus primarily on characters from Radiant Dawn. There is also one secret card with an

denotation; that card's numbering indicates an early look into part of series 7 and depicts a character in his Fire Emblem: The Blazing Blade incarnation.
Card list
The series features a total of 100 normal cards, 1 secret card, as well as 14 alternate foil prints.
For more information on each card see the Fire Emblem Cipher section on the respective character page.
Card list
Image & card number
Name
Alternate print
(If applicable)

B05-001SR
Inheritor of the Sealed Flame, Roy

B05-001SR+

B05-002N
Son of Flames, Roy

B05-003HN
Young Lord of Pherae, Roy

B05-004SR
Pretty Noble, Lilina

B05-004SR+

B05-005N
Genius Mage, Lilina

B05-006HN
Lady of Ostia, Lilina

B05-007R
Loyal Knight of Flames, Alen

B05-008N
Fierce Knight, Alen

B05-009R
Loyal Knight of Gales, Lance

B05-010N
Calm Knight, Lance

B05-011HN
Arrow of Bonds, Wolt

B05-012N
Archer of Pherae, Wolt

B05-013HN
Wall of Ostia, Bors

B05-014N
Ironclad Heavy Knight, Bors

B05-015HN
Saint of Bern, Elen

B05-016N
Cleric Serving the Princess, Elen

B05-017R
Battle-Scarred Veteran, Dieck

B05-017R+

B05-018N
Wounded Tiger, Dieck

B05-019HN
Captain of the Dieck Mercenaries, Dieck

B05-020N
Reckless Mercenary, Wade

B05-021N
Careful Fighter, Lot

B05-022R
Cheerful Flower of Ilia, Shanna

B05-022R+

B05-023N
Half-Baked Pegasus Knight, Shanna

B05-024HN
Lycian Linx, Chad

B05-025R
Child of Anima, Lugh

B05-026N
Determined Mage, Lugh

B05-027HN
Carefree Little Lady, Clarine

B05-028N
Distinguished Lady, Clarine

B05-029SR
Blood-Red Rage, Rutger

B05-030N
Swordsman Chasing His Sworn Enemy, Rutger

B05-031HN
Swordsman of Vengeance, Rutger

B05-032HN
Doe of the Plains, Sue

B05-033N
Girl of the Kutolah Tribe, Sue

B05-034SR
Heir to the Saint of Swords, Fir

B05-035N
Blade aiming for the Top, Fir

B05-036HN
Wandering Swordswoman, Fir

B05-037HN
Silver Nobleman, Klein

B05-038R
Calculating Flower of Ilia, Thea

B05-038R+

B05-039N
Pegasus Knight of Gales, Thea

B05-040HN
Knight General of Etruria, Perceval

B05-041HN
Mage General of Etruria, Cecilia

B05-042SR
Dragon Blood Inheriting Priestess, Sophia

B05-043N
Prophet of the Hidden Village, Sophia

B05-044R
Divine Dragon, Fae

B05-045N
Innocent Dragon Girl, Fae

B05-046R
Graceful Flower of Ilia, Juno

B05-046R+

B05-047N
Legendary Pegasus Knight, Juno

B05-048SR
Crafty Dragon General, Narcian

B05-048SR+

B05-049HN
Smiling Tornado, Randal

B05-050N
Twin Blade Cavalier of Winds, Randal

B05-051SR
Priestess of Hope, Micaiah

B05-051SR+

B05-052N
Maiden of Dawn, Micaiah

B05-053HN
Silver-Haired Maiden, Micaiah

B05-054SR
Guardian of Hope, Sothe

B05-054SR+

B05-055N
Zephyr, Sothe

B05-056HN
Chivalrous Young Thief, Sothe

B05-057R
Lively Master Fencer, Edward

B05-058N
Back Alley Fencer, Edward

B05-059HN
Furiously Piercing Bow, Leonardo

B05-060N
Righteous Archer, Leonardo

B05-061N
Wise Champion, Nolan

B05-062HN
Deeply Devoted Priestess, Laura

B05-063N
Carefree Saint, Laura

B05-064HN
Champion of Faith, Aran

B05-065N
Warm-hearted Spearman, Aran

B05-066N
Wayfaring Country Girl, Meg

B05-067HN
Silent Fang, Volug

B05-068N
Black Wolf of the Sands, Volug

B05-069HN
Leader of the Laguz Emancipation Army, Tormod

B05-070N
Plucky Freedom Fighter, Tormod

B05-071N
Desert's Water, Muarim

B05-072HN
Liberation's Talon, Vika

B05-073R
Queen of Hatari, Nailah

B05-073R+

B05-074R
Esteemed Queen, Elincia

B05-074R+

B05-075HN
Black Tempest, Haar

B05-076N
Black Dragon Knight, Haar

B05-077R
Patriotic War Princess, Nephenee

B05-078N
Relentless Halberdier, Nephenee

B05-079HN
Alluring Rogue, Heather

B05-080R
Eternal Sword of Loyalty, Lucia

B05-081N
Queen's Swordswoman, Lucia

B05-082SR
Lancer General, Geoffrey

B05-083N
Protector of the Realm, Geoffrey

B05-084R
Commander of the Holy Guard, Sigrun

B05-085N
Pure White Pegasus Knight, Sigrun

B05-086SR
Begnion Empress, Sanaki

B05-086SR+

B05-087HN
Child Emperor, Sanaki

B05-088N
Apostle of Begnion, Sanaki

B05-089SR
Radiant Hero, Ike

B05-090R
Staff Officer of Frozen Winds, Soren

B05-090R+

B05-091N
Silent Wind Mage, Soren

B05-092SR
Aspiring Lady of Blades, Mia

B05-093HN
Knight-Errant Swordsman, Mia

B05-094HN
Moody Battle Cat, Lyre

B05-095N
Finder of Secrets, Lyre

B05-096HN
Deputy Prime Minster of Crimea, Bastian

B05-097N
Crimea's Keystone, Bastian

B05-098R
Prince of Goldoa, Kurthnaga

B05-098R+

B05-099HN
Finally, a Dragon!, Emma

B05-100N
Black Bishop in White, Shade

B07-002R+X
Knight of Lycia, Eliwood
Etymology and other languages
Names, etymology and in other regions
Language
Name
Definition, etymology and notes
English
(unofficial)

• Beyond the Rivalry
• Surpassing Rivalry
• Overcoming Rivalry

• Presumably a more literal translation of the original Japanese.
• Alternate translation, popularized by Serenes Forest.
• Alternate translation, initially popularized by Serenes Forest but has now fallen out of use there in favor of the above translation.

Japanese

相剋を越えて
Gallery
References
External links