Site News
Warning: This wiki contains spoilers. Read at your own risk!


Social media: If you would like, please join our Discord server, and/or follow us on Twitter (X) or Tumblr!

Cross-Wiki Week 2023: From September 23 to October 1, make contributions to NIWA wikis and participating affiliates that you normally don't edit for a chance to win a Nintendo eShop gift card! See here for more details.
Fire Emblem Cipher/Conquest of Honor
From Fire Emblem Wiki, your source on Fire Emblem information. By fans, for fans.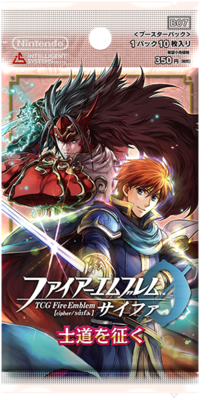 Conquest of Honor (Japanese: 士道を征く Conquest of Honor) is the seventh booster series released for Fire Emblem Cipher. It primarily features characters from Fire Emblem: The Blazing Blade and the Birthright route of Fire Emblem Fates. This series was released on December 8th, 2016 in Japan. The retail price for individual booster packs is ¥350 plus tax.
Conquest of Honor is the first booster series for Cipher not associated with any starter decks.
This booster series is part of season 2, and will no longer be legal in competitive play sometime in May 2020.
As with all of Cipher, the cards featured here has been printed only in Japanese and have only been released in Japan.
Overview
This booster series can be divided into two halves. The first half, consisting of cards 1-50 and denoted with

, focus primarily on characters from Fire Emblem: The Blazing Blade; the second half, consisting of cards 51-100 and denoted primarily with
, focus primarily on characters from the Birthright route of Fates, with one character with a

denotation depicting Scarlet. There is also one secret card with a

denotation; that card's numbering indicates an early look into part of series 9 and depicts a character from The Binding Blade.
Card list
The series features a total of 100 normal cards, 1 secret card, as well as 14 alternate foil prints.
For more information on each card see the Fire Emblem Cipher section on the respective character page.
Card list
Image & card number
Name
Alternate print
(If applicable)

B07-001SR
Heroic Inheritor of the Blaze, Eliwood

B07-001SR+

B07-002R
Knight of Lycia, Eliwood

B07-003HN
Marquess Pherae's Son, Eliwood

B07-004SR
The Great General, Hector

B07-004SR+

B07-005N
Brave General of Ostia, Hector

B07-006HN
Brother to Marquess Ostia, Hector

B07-007SR
Spirited Noblewoman, Lyn

B07-008N
Lady of the Plains, Lyn

B07-009HN
Swordfighter of the Plains, Lyn

B07-010SR
Dragon Girl of Destiny, Ninian

B07-011HN
The Crimson Shield, Kent

B07-012N
Diligent Red Knight, Kent

B07-013HN
The Green Lance, Sain

B07-014N
Frivolous Green Knight, Sain

B07-015R
Sunny Pegasus Girl, Florina

B07-015R+

B07-016N
Shy Pegasus Knight, Florina

B07-017R
Headstrong Bishopess, Serra

B07-017R+

B07-018N
Boisterous Cleric, Serra

B07-019HN
Wolf of Sacae, Rath

B07-020N
Son of the Kutolah Tribe, Rath

B07-021HN
Honorable Thief, Matthew

B07-022R
The Light, Lucius

B07-023N
Kind-Hearted Monk, Lucius

B07-024R
A Wildflower, Rebecca

B07-024R+

B07-025N
Bright Village Girl, Rebecca

B07-026HN
Ostia's Armor General, Oswin

B07-027N
Hector's Retainer, Oswin

B07-028HN
Aspiring Swordsman of Sacae, Guy

B07-029N
Mounted Swordsman, Guy

B07-030HN
Secluded Valkyrie, Priscilla

B07-031N
Brotherbound Princess, Priscilla

B07-032R
Blade of Love and Revenge, Raven

B07-033N
Noble Mercenary, Raven

B07-034HN
Heir to the Hermit, Canas

B07-035N
Researcher of Knowledge, Canas

B07-036N
Wing-borne Warrior, Fiora

B07-037N
Silver Mage General, Pent

B07-038N
Lady of Violets, Louise

B07-039SR
Pious Mage, Nino

B07-040N
The Fang's Apprentice, Nino

B07-041R
The Angel of Death, Jaffar

B07-041R+

B07-042N
Heartless Assassin, Jaffar

B07-043N
The Great Wing, Farina

B07-044SR
The White Wolf, Lloyd

B07-045HN
Black Blade that Cleaves Evil, Lloyd

B07-046HN
Gruff Mad Dog, Linus

B07-047R
Ruthless Blue Crow, Ursula

B07-048HN
Genesis, Limstella

B07-049HN
Dishonorable Invincible Knight, Randal

B07-050N
Twin Blades of Evil, Randal

B07-051SR
Unifier of the Kingdom of Hoshido, Ryoma

B07-051SR+

B07-052N
Master Swordsman of Hoshido, Ryoma

B07-053HN
Warrior of Hoshido, Ryoma

B07-054SR
Courageous Crimson Wings, Hinoka

B07-054SR+

B07-055N
Fiery Princess, Hinoka

B07-056SR
Prince of Brilliant Winds, Takumi

B07-056SR+

B07-057N
Wind God's Successor, Takumi

B07-058SR
Dancing in Hoshidan Bloom, Sakura

B07-058SR+

B07-059N
Affectionate Little Sister, Sakura

B07-060R
Garbed in Honor, Saizo

B07-060R+

B07-061N
Fifth Generation, Saizo

B07-062R
Garbed in Glory, Kagero

B07-062R+

B07-063N
Hoshidan Kunoichi, Kagero

B07-064R
Careless Kinshi Knight, Setsuna

B07-064R+

B07-065N
Careless Archer, Setsuna

B07-066SR
Stunning Spear Maiden, Oboro

B07-067HN
Draper's Daughter, Oboro

B07-068R
The Unyielding Girl, Hana

B07-069N
Cheerful Swordsgirl, Hana

B07-070HN
Perfectionist of the Sky, Subaki

B07-071N
Strive for Perfection, Subaki

B07-072R
The Joker at Hand, Jakob

B07-073N
Faithful Staff Knight, Jakob

B07-074HN
Miraculous Blood Fighter, Rinkah

B07-075N
Adult Curse Specialist, Orochi

B07-076R
Reunited Best Friend, Silas

B07-077N
Childhood-Friend Knight, Silas

B07-078HN
Crimson Wyvern Minion, Scarlet

B07-079N
Lively Dragon Lady, Scarlet

B07-080HN
Chief of Wind, Fuga

B07-081N
Warrior of Sand, Fuga

B07-082HN
Hoshido's Tactician, Yukimura

B07-083N
Bespectacled Wiseman, Yukimura

B07-084R
Resolved Heir of Raijin, Shiro

B07-085N
Prince Polishing his Spearmanship, Shiro

B07-086HN
Wild Archery, Kiragi

B07-087HN
Sullenly Waking, Mitama

B07-088HN
Blade with a Quiet Heart, Hisame

B07-089N
Calm Genius, Hisame

B07-090HN
Inherited Butler's Soul, Dwyer

B07-091N
Lethargic Cleric, Dwyer

B07-092HN
"I can do this!", Sophie

B07-093R
Demonic Sword King, Sumeragi

B07-093R+

B07-094N
Devoted King of Hoshido, Sumeragi

B07-095HN
Queen of the Kingdom of Hoshido, Mikoto

B07-096N
Hoshido's Queen Consort, Mikoto

B07-097SR
Sacred Mystical Dragon, Anankos

B07-098HN
Astral Guardian Dragon, Lilith

B07-099HN
Crane Dreadknight, Yuzu

B07-100N
Shinobi of the Violet Shadows, Yuzu

B09-054R+X
The Flame of Prophecy, Roy
Etymology and other languages
Names, etymology, and in other regions
Language
Name
Definition, etymology, and notes
English
(unofficial)

• Conquest of Honor
• Conquering Honor
• Rise to Honor

• Presumably a more literal translation of the original Japanese. Highly unlikely to be referencing the Conquest route of Fates, as the portion of this set based on Fates focuses on the Birthright campaign; additionally the Conquest route of Fates is known as Dark Night Kingdom in Japan.
• Alternate translation, popularized by Serenes Forest.
• Alternate translation, initially popularized by Serenes Forest but has now fallen out of use there in favor of the above translation.

Japanese

士道を征く
Gallery
References
External links