Site News
Warning: This wiki contains spoilers. Read at your own risk!


Discord and Twitter: If you would like, please join our Discord server, and/or follow us on Twitter at @FEWikiOfficial!
Fire Emblem Cipher/The Twin Swords to Hope
From Fire Emblem Wiki, your source on Fire Emblem information. By fans, for fans.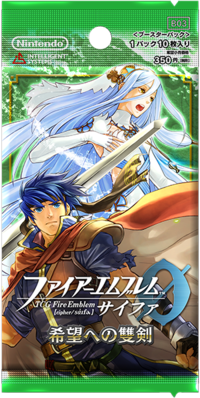 The Twin Swords to Hope (Japanese: 希望への雙剣 The Twin Swords to Hope) is the third booster series released for Fire Emblem Cipher. It primarily features characters from Fire Emblem: Path of Radiance, and Fire Emblem Fates, also including one character from Fire Emblem Awakening and introducing new Cipher mascot Yuzu into the cardpool. This series was released aside one associated starter deck, Path of Radiance Chapter, on December 10th, 2015 in Japan. The retail price for individual booster packs is ¥350 plus tax.
This booster series is part of season 1, and will no longer be legal in competitive play sometime in May 2019.
As with all of Cipher, the cards featured here has been printed only in Japanese and have only been released in Japan.
Overview
This booster series can be divided into one half and two quarters. The first half, consisting of cards 1-50, focuses primarily on characters from Path of Radiance and denoted with

, although card 50 depicts Awakening character Priam and thus denoted with

; the second half focuses primarily on characters from Fates and is divided into two quarters, the first consisting of cards 51-75 and denoted with
, the second consisting of cards 76-100 and denoted with

, appearing to focus on the Revelation campaign.
Card list
The series features a total of 100 normal cards as well as 14 alternate foil prints.
For more information on each card see the Fire Emblem Cipher section on the respective character page.
Card list
Image & card number
Name
Alternate print
(If applicable)

B03-001SR
General of the Divine Blade, Ike

B03-001SR+

B03-002N
Knight of Crimea, Ike

B03-003HN
Greil Mercenaries Greenhorn, Ike

B03-004SR
Wings Praying for Restoration, Elincia

B03-005N
Lone Heiress, Elincia

B03-006SR
Holy-Hearted Valkyrie, Mist

B03-007N
Hospitable Sister, Mist

B03-008HN
Mercenary Commander, Titania

B03-009N
Red haired Axe Knight, Titania

B03-010SR
Windswept Votive, Soren

B03-011N
Shrouded Strategist, Soren

B03-012HN
Eldest Mercenary Brother, Oscar

B03-013N
Gentle Lance Knight, Oscar

B03-014HN
Invasive Brother, Boyd

B03-015N
Hesitant Brother, Boyd

B03-016HN
Youngest Mercenary Brother, Rolf

B03-017N
Vendure Brother, Rolf

B03-018N
Frail Priest, Rhys

B03-019N
Sharp Sniper, Shinon

B03-020N
Flirtatious Shining Shield, Gatrie

B03-021SR
Unrivaled Sword Hand, Mia

B03-021SR+

B03-022N
Young Warrior of the Mercenaries, Mia

B03-023HN
Sage of Eternal Hunger, Ilyana

B03-024N
Faint Transient, Ilyana

B03-025R
Worried Sister, Marcia

B03-026N
Bright Pegasus Knight, Marcia

B03-027HN
Fearless Feline, Lethe

B03-028N
Daughter of the Beast Tribe, Lethe

B03-029N
Elusive Informant, Volke

B03-030HN
Fervant Knight, Kieran

B03-031N
Raging Axe Knight, Kieran

B03-032R
Swift Lance of Liberation, Nephenee

B03-032R+

B03-033N
Quiet Soldier, Nephenee

B03-034HN
Wandering Swordmaster, Zihark

B03-035N
Wandering Myrmidon, Zihark

B03-036R
Determined Wyvern Rider, Jill

B03-036R+

B03-037N
Knight of Talrega, Jill

B03-038N
Lady Knight, Astrid

B03-039N
Deputy Commander of the Holy Guard, Tanith

B03-040R
Warrior of the Gallian Beast Tribe, Ranulf

B03-041N
Friendly Warrior, Ranulf

B03-042N
Red Dragon Strategist, Ena

B03-043R
King of Phoenicis, Tibarn

B03-043R+

B03-044R
King of Kilvas, Naesala

B03-044R+

B03-045R
Prince of Serenes, Reyson

B03-046R
Awakened Heron Princess, Leanne

B03-047SR
Demon in Blessed Armor, Black Knight

B03-047SR+

B03-048HN
Teacher of Shadows, Shade

B03-049HN
Fresh Falcon, Emma

B03-050HN
Radiant Hero, Priam

B03-051SR
Divine Dragon of Embers, Corrin (female)

B03-052N
Crown Princess of Hoshido, Corrin (female)

B03-053SR
Diva of Dawn, Azura

B03-053SR+

B03-054HN
Sorcerer of Shadows, Xander

B03-055HN
Bewitching Basara, Camilla

B03-056N
Amethyst Samurai, Leo

B03-057N
Blossoming Kunoichi, Elise

B03-058SR
Leeward Shinobi, Kaze

B03-059N
Easygoing Ninja, Kaze

B03-060HN
Girl Who Gives Her All, Mozu

B03-061N
Hayseed Blossom, Mozu

B03-062R
White Dragon Prince, Kana (male)

B03-063R
Nightingale Warrior, Shigure

B03-064N
Crooning Pegasus Knight, Shigure

B03-065HN
Surpassing His Father, Shiro

B03-066N
Child of Thunderous Potential, Shiro

B03-067HN
Natural Hunter, Kiragi

B03-068N
Optimistic Archer, Kiragi

B03-069R
War Priestess, Mitama

B03-069R+

B03-070N
Haiku Composer, Mitama

B03-071N
Calm and Collected Warrior, Hisame

B03-072R
Thread of Gold, Selkie

B03-072R+

B03-073N
Free Spirit, Selkie

B03-074HN
Reliable Pharmacist, Midori

B03-075N
Fencing Crane, Yuzu

B03-076SR
Zenith of Ashes, Corrin (male)

B03-077N
Prince of Nohr, Corrin (male)

B03-078SR
Diva of Dusk, Azura

B03-078SR+

B03-079HN
Tempestuous Wyvern Lord, Ryoma

B03-080HN
Crimson Warrior Maid, Hinoka

B03-081N
Zirconia Knight, Takumi

B03-082N
Buttressed Benefactress, Sakura

B03-083R
Sworn Friend, Silas

B03-084N
Friendly Knight, Silas

B03-085SR
Boreal Maid, Flora

B03-085SR+

B03-086R
Black Dragon Princess, Kana (female)

B03-087HN
Knight in Line to Be King, Siegbert

B03-088N
Future Prince of Nohr, Siegbert

B03-089HN
Nascent Steward, Dwyer

B03-090N
Lethargic Cleric, Dwyer

B03-091R
Chivalrous Thief, Nina

B03-091R+

B03-092N
Delusional Escapist, Nina

B03-093N
Lucky, Percy

B03-094N
Timid Knight, Ignatius

B03-095R
Patriarch's Pet, Velouria

B03-095R+

B03-096N
Daddy's Little Werepup, Velouria

B03-097HN
Greatly Mounted Paladin, Sophie

B03-098N
Scatterbrained Knight, Sophie

B03-099N
Enigmatic Merchant, Anna

B03-100HN
Brave Crane, Yuzu
Etymology and other languages
Names, etymology and in other regions
Language
Name
Definition, etymology and notes
English
(unofficial)

• The Twin Swords to Hope
• Hopeward Twin Swords
• Twin Swords of Hope

• Presumably a more literal translation of the original Japanese.
• Alternate translation, popularized by Serenes Forest.
• Alternate translation, initially popularized by Serenes Forest but has now fallen out of use there in favor of the above translation.

Japanese

希望への雙剣
Gallery
References
External links