Site News
Warning: This wiki contains spoilers. Read at your own risk!


Discord and Twitter: If you would like, please join our Discord server, and/or follow us on Twitter at @FEWikiOfficial!
Fire Emblem Cipher/Victory Song of Heroes
From Fire Emblem Wiki, your source on Fire Emblem information. By fans, for fans.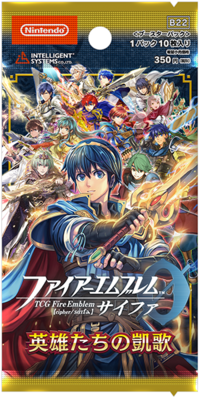 Victory Song of Heroes (Japanese: 英雄たちの凱歌 Victory Song of Heroes) is the twenty-second booster series released for Fire Emblem Cipher. It primarily features characters from all but one game from the greater Fire Emblem series to the point of its release, the exception being Fire Emblem: Archanea Saga, as well as the tie-in manga Hasha no Tsurugi. This series was released on October 1, 2020 in Japan. The retail price for individual booster packs is ¥350 plus tax.
This booster series is part of season 6, and will no longer be legal in competitive play sometime in mid-2024.
As with all of Cipher, the cards featured here has been printed only in Japanese and have only been released in Japan.
Overview
This booster series, drawing from most of the greater Fire Emblem series and boasting a size larger than the standard 100 cards, does not feature any standard divisions. All of the continental color denotations introduced to that point are represented, with colorless cards splashed throughout the set.
The set can be largely divided into three zones: cards 1-13, cards 14-107, and cards 108-115.
The first zone, cards 1-13, consist of lead characters, with all cards therein being of the SR rarity, with six foil alternate versions of SR+ rarity present among them. The characters are ordered by the release date of their game of origin.
The second zone, cards 14-107, consist of a wider variety of characters drawn from across the Fire Emblem series, including common-rarity cards of the characters in the first zone. The characters are grouped by their realm of origin (Archanea tetraology grouped together), and the groupings mostly correspond to the game's status within or outside the main Fire Emblem series and from there by release date of their games of origin, with the one character originating from the

Hasha no Tsurugi

manga coming at the end of this zone at card 107; however,

Heroes

, despite being a non-main series game that debuted after Tokyo Mirage Sessions ♯FE, is grouped within the main series games between

Fates

and

Three Houses

, rather than between Tokyo Mirage Sessions and

Warriors

where conventional logic would dictate.
The third zone, cards 108-115, depict all eight of Cipher's mascots in order of their introduction, with all eight continental denotations between them
A more detailed per-symbol breakdown is as follows:
Card List
The series features a total of 115 normal cards, as well as 8 alternate foil prints.
For more information on each card see the Fire Emblem Cipher section on the respective character page.
The cards' epithets are still in raw, untranslated Japanese; these need translation.
Card List
Image & card number
Name
Alternate print(s)
(If applicable)

B22-001SR
光をもたらす英雄王, Marth

B22-001SR+

B22-002SR
神々の国の英雄王, Alm

B22-003SR
聖義を伝えし騎士, Sigurd

B22-003SR+

B22-004SR
救国済民の勇王子, Leif

B22-005SR
凶星を灼く封炎, Roy

B22-005SR+

B22-006SR
災いを断つ烈火, Eliwood

B22-007SR
Princess of Kindness and the Storm Blade, Eirika

B22-008SR
蒼炎と神剣の英傑, Ike

B22-008SR+

B22-009SR
暁光を纏いし巫女, Micaiah

B22-010SR
運命を変える聖王, Chrom

B22-011SR
己が道を選びし神子, Corrin (male)

B22-012SR
英雄を束ねし王子, Alfonse

B22-012SR+

B22-013SR
神祖の力を受け継ぐ者, Byleth (male)

B22-013SR+

B22-014N
Heir to the Fire Emblem, Marth

B22-015R
世界を愛で繋ぐ翼, Caeda

B22-016HN
燃える紅炎の騎士, Cain

B22-017HN
萌ゆる翠野の騎士, Abel

B22-018N
アリティアの癒やしの僧, Wrys

B22-019HN
伝承の竜王女, Tiki

B22-020R
もう一人の英雄, Kris (female)

B22-021N
若き騎士志願者, Kris (female)

B22-022R
蘇りし暗黒竜, Medeus

B22-023N
旅立ちの刻, Alm

B22-024HN
気高き戦女王, Celica

B22-025HN
破壊の力を秘めし弓騎, Tobin

B22-026N
女神に仕えるシスター, Silque

B22-027HN
獅子盾の重装闘士, Valbar

B22-028N
バルドの血を引く公子, Sigurd

B22-029N
ロプトの血を引く聖女, Deirdre

B22-030HN
弓神ウルの末裔, Brigid

B22-031N
海賊の女頭目, Brigid

B22-032HN
聖杖を継ぐ高司祭, Claud

B22-033HN
Savior of Jugdral, Seliph

B22-034N
レンスター再興を夢見て, Leif

B22-035N
Chief of the Dandelions, Perne

B22-036HN
Magic Princess Who Wishes for the Recapture of Her Fatherland, Miranda

B22-037N
Princess of Ulster, Miranda

B22-038R
赤き炎の司祭, Saias

B22-039N
才気溢れる公子, Roy

B22-040N
盟主となる公女, Lilina

B22-041SR
至高の光で世を照らす者, Guinivere

B22-042R
三竜将の奸将, Narcian

B22-043N
友情を信じる公子, Eliwood

B22-044N
宿命の舞い手, Ninian

B22-045N
Younger Princess of Renais, Eirika

B22-046N
炎槍の勇王, Ephraim

B22-047R
闇からの予見, Knoll

B22-048N
宮廷魔道士の生き残り, Knoll

B22-049HN
闇に君臨する魔王, Fomortiis

B22-050N
無敵の剣技を継ぐ青年, Ike

B22-051R
蒼炎の軍師, Soren

B22-052N
傭兵団の才士, Soren

B22-053R
究みを目指す剣聖, Mia

B22-054N
修行中の女剣士, Mia

B22-055N
暁の団の乙女, Micaiah

B22-056HN
暁の団の護風, Sothe

B22-057HN
幸の担い手, Danved

B22-058N
Dutiful Assistant, Kyza

B22-059HN
黒き神装の名将, Black Knight

B22-060N
堕ちた光, Lehran

B22-061N
聖なる血裔の王子, Chrom

B22-062R
希望の未来へ歩む姫, Lucina

B22-063N
絶望の未来からきた王女, Lucina

B22-064SR
七色の策を持つ軍師, Robin (female)

B22-064SR+

B22-065N
聖王の戦術師, Robin (female)

B22-066N
自警団のプリンセス, Lissa

B22-067HN
聖王国の守護騎士, Frederick

B22-068N
イーリスの騎士, Frederick

B22-069HN
家族想いの翔竜騎, Cherche

B22-070N
ヴィオール公爵家の竜騎士, Cherche

B22-071N
白夜と暗夜の王子, Corrin (male)

B22-072SR
果てなき闘いの果てに, Azura

B22-072SR+

B22-073N
透魔の歌姫, Azura

B22-074R
白天を翔ける姫武者, Hinoka

B22-075N
闇を斬り裂く白姉, Hinoka

B22-076N
南国満喫王子, Takumi

B22-077HN
白夜に献げる涼嵐, Kaze

B22-078HN
白夜へ奉じる爆炎, Saizo

B22-079HN
白夜を照らす煌刃, Kagero

B22-080N
湯けむりの秘密, Camilla

B22-081R
深暗を駆ける魔王子, Leo

B22-082N
光なき王国の末弟, Leo

B22-083HN
暗夜を守護る氷刃, Felicia

B22-084HN
暗夜に尽くす切札, Jakob

B22-085HN
暗夜を援ける氷杖, Flora

B22-086N
開かれし国の王子, Alfonse

B22-087R
春めく皇女, Veronica

B22-088N
白夢の妖精, Mirabilis

B22-089N
Teacher of the Monastery, Byleth (male)

B22-090R
覇を唱えし皇帝, Edelgard

B22-091N
気高き黒鷲の級長, Edelgard

B22-092R
修羅となりし騎士王, Dimitri

B22-093N
凜々しき青獅子の級長, Dimitri

B22-094R
神算鬼謀の盟主, Claude

B22-095N
抜け目なき金鹿の級長, Claude

B22-096HN
生涯引き籠もり宣言, Bernadetta

B22-097HN
盾の名を継ぐ者, Felix

B22-098HN
彷徨う想いを超えて, Marianne

B22-099N
護国の老騎士, Gilbert

B22-100R
アガルタの暗殺者, Kronya

B22-101HN
ロードオブフォルトナ, Itsuki Aoi

B22-102R
嵐を呼ぶ小学生, Mamori Minamoto

B22-103N
大人気アイドル子役, Mamori Minamoto

B22-104HN
幻影の鎧将, Draug

B22-105N
ミラクルウタロイド, Tiki

B22-106HN
邪竜を滅ぼす無双剣, Rowan

B22-107R
それぞれの道へ, Al

B22-108HN
グローイング・ウイング, Emma

B22-109HN
ハッピー・グラデュエイション, Shade

B22-110HN
武の究極を求めて, Yuzu

B22-111HN
真剣遊戯の風来騎, Randal

B22-112HN
見果てぬ名君への道, Alice

B22-113HN
アリスお嬢様の盾, Valjean

B22-114HN
終わり無き混沌への求知, Niamh

B22-115HN
善悪を秤る神判少女, Poe
Etymology and other languages
Names, etymology and in other regions
Language
Name
Definition, etymology and notes
English
(unofficial)

• Victory Song of Heroes
• The Heroes' Paean

• Presumably a more literal translation of the original Japanese.
• Alternate translation, popularized by Serenes Forest; unlike the above translation, it treats what has been translated as "paean" as a one-piece Chinese term (凱歌) as opposed to a two-piece Japanese term (凱歌).

Japanese

英雄たちの凱歌
Gallery
References
External links