Site News
Warning: This wiki contains spoilers. Read at your own risk!


Social media: If you would like, please join our Discord server, and/or follow us on Twitter or Tumblr!

Engage info: As the game has only recently released, we lack much key information. Please help add any info that you can.
Dragonstone
From Fire Emblem Wiki, your source on Fire Emblem information. By fans, for fans.
This article is about the specific item. For the broader item type, see Stone (weapon).
Dragonstone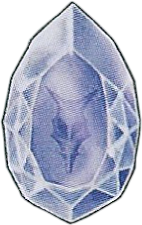 Concept artwork of a Dragonstone from Fates.
---
Allows a manakete to fight in dragon form.
The Dragonstone (Japanese: 竜石 Dragon Stone) is a stone which was introduced in Fire Emblem: The Sacred Stones. It appears in The Sacred Stones, Awakening, and Fates as the single, generic kind of dragonstone (not counting enhanced varieties of this kind) which is used by all Manaketes present in the game, instead of the many element-specific varieties common to other games in the Fire Emblem series. Equipping a Dragonstone allows Manakete units to take dragon form when fighting in battles, giving them numerous stat boosts on top of the weapon's respectable power.
Stats
Game
Icon
Level
Might
Weight
Hit
Crit
Range
Uses
Worth
WEXP
Other effects and notes

The Sacred Stones

--
16
0
100
15
1
50
Cannot be sold
0
+12 strength, +12 skill, +15 defense, +20 resistance when equipped.
Deals bonus damage to monster units.

Awakening

--

8
--
80
0
1-2
50
2,300
2
+8 strength, +5 magic, +3 skill, +2 speed, +10 defense, +7 resistance when equipped.

Fates

E
14
--
85
0
1
--
2,000
1
−3 skill, −2 speed, +4 defense, +3 resistance, −10 avoid, +10 dodge when equipped.
Works as magical damage.
Cannot make follow-up attacks.
Cannot be sold.
Locations
The Sacred Stones
Awakening
Fates
Flavor text
Game
Text
(English)
Text
(Japanese)

The Sacred Stones


(Description)

A stone imbued with mysterious might.
Myrrh draws strength from it.

謎の力を秘めた石
ミルラに力を与える

The Sacred Stones


(Use screen)

Manakete only.

マムクート専用

Awakening

Allows a manakete to fight in dragon form.

竜に変化するための石

Fates

Skill-3, Spd-2. Def+4, Res+3, Ddg+10.
Magical. Cannot make follow-up attacks.

魔法武器/追撃不可
Etymology and other languages
Names, etymology, and in other regions
Language
Name
Definition, etymology, and notes
English

Dragonstone

--

Japanese

竜石

Dragon Stone

Spanish

Piedra dragón

Dragon stone

French

Dracopierre

Dragonstone

German

Drachenstein

Dragonstone

Italian

Pietra drago

Dragon stone

Korean

용석

Dragonstone
Gallery
References
See also