Site News
Warning: This wiki contains spoilers. Read at your own risk!


Social media: If you would like, please join our Discord server, and/or follow us on Twitter or Tumblr!

Engage info: As the game has only recently released, we lack much key information. Please help add any info that you can.
Wolfguard
From Fire Emblem Wiki, your source on Fire Emblem information. By fans, for fans.
Wolfguard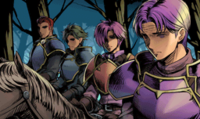 | | |
| --- | --- |
| Leader | |
| Size | Unknown (4 named, 22 unnamed) |
| Headquarters | |
| Group type | Order of knights |
| Purpose | |
| Appearance(s) | |
The Wolfguard (Japanese: 狼騎士団 Wolf Knights), known as the Coyote's Men in Heroes, is an elite order of knights of Aurelis. Founded by the Aurelian knight Wolf at the end of the War of Shadows, it was founded from a core four knights who served in Prince Hardin's guerrilla group opposing the Macedon occupation of their country for much of the war; these four were once slaves, freed by Hardin, and so possessed unflinching loyalty to him.
At the height of the War of Heroes, the Wolfguard were deployed to Pales at the request of Hardin, now the corrupt emperor of Archanea, in response to the threat of the Altean army led by the "traitorous" Prince Marth. Their route took them through Adria Pass, where the Altean army was also passing at the time, and so the group launched an ambush against. Roshea was the only member to have doubts about the truth of Hardin, but was fiercely rebuked by Wolf for daring to question Hardin. However, their assault was halted by the arrival of the King of Aurelis who, having learned from a letter from Nyna the truth of Hardin's behavior, ordered them to stand down. Roshea then traveled to Knorda Market, where he allied with Marth.
In the remake, the other Wolfguard members arrived at the battle of Pales as reinforcements, but were convinced by Roshea to again stand down and ally with Marth.
Members
Etymology and other languages
Names, etymology, and in other regions
Language
Name
Definition, etymology, and notes
English
Japanese

狼騎士団

Wolf Knights; whereas in the English version this title seemingly refers to Wolf, their leader, in the Japanese version it refers to Hardin, the "Wolf of the Plains" (translated instead as "Coyote").

Spanish

La guardia Wolf

Wolf guard; used in Shadow Dragon. Refers specifically to the character.

Spanish
(Spain)

Banda de Coyote

Coyote's band; used in the European localization of Heroes.

Spanish
(Latin America)

Hombres de Coyote

Coyote's men; used in the American localization of Heroes.

French

Garde de Wolf
Troupe du coyote

Wolf's guard; used in Shadow Dragon. Refers specifically to the character.
The coyote's troop; used in Heroes.

German

Wolfsgarde
Kojotes Männern

Wolfguard; used in Shadow Dragon.
Coyote's Men; used in Heroes.

Italian

Uomini del Coyote

The Coyote's men; used in Heroes. Not named by name in Shadow Dragon.

Portuguese

Homens de Coyote

Coyote's men

Traditional Chinese

狼騎士團

Wolf knights
References
↑ 1.0 1.1 "Wolf remained a knight of Aurelis. He helped rebuild and later captained an elite force known as the Wolfguard." — Wolf's ending, Fire Emblem: Shadow Dragon
↑ 2.0 2.1 "Member of the Coyote's Men of Aurelis. After the War of Shadows, he retired from the army but eventually returned to the field. Appears in Fire Emblem: Mystery of the Emblem." — Roshea's description, Fire Emblem Heroes