Site News
Warning: This wiki contains spoilers. Read at your own risk!


Social media: If you would like, please join our Discord server, and/or follow us on Twitter (X) or Tumblr!

Cross-Wiki Week 2023: From September 23 to October 1, make contributions to NIWA wikis that you normally don't edit for a chance to win a Nintendo eShop gift card! See here for more details.
Wolf (laguz)
From Fire Emblem Wiki, your source on Fire Emblem information. By fans, for fans.
| | |
| --- | --- |
| Unit type(s) | Beast |
| Weapon(s) | |
| Skill(s) | |
Wolves (Japanese: 狼 Wolf) are a tribe of beast Laguz, and class, appearing in Fire Emblem: Radiant Dawn. They were believed by the majority of Tellius to have been extinct until recently. Wolves, as evident by their name, take the form of wolves in combat. Wolf laguz are currently only known to be from Hatari.
History
---
This section has been marked as a stub. Please help improve the page by adding information.
---
The wolf laguz and the rest of Hatari have been cut off from the rest of Tellius by the Desert of Death for hundreds of years. During this time they were whispered about in legends and myth, but not widely believed to actually exist by the majority of Tellius' inhabitants. The first reestablishment of contact between Hatari and the rest of the world occurred when Rafiel, a heron from Serenes Forest was found by Nailah in the Desert of Death.
Around the year 645 Nailah came up with a plan to move Hatari's inhabitants (and thus the wolf laguz tribe) closer to the other kingdoms of Tellius. It is never explicitly stated if Nailah was successful.
Characteristics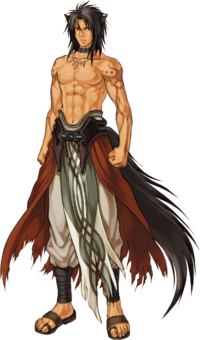 Physical appearance
Wolves retain their ears and tails in their humanoid forms. The range of colors a wolf laguz can have is unknown, but Volug has gray fur, while Nailah has white fur; both not unusual colors for wolves. Both Volug and Nailah have markings covering much of their bodies, though whether these markings are natural, similar to the markings the dragons have, or traditional tattoos is unclear.
Judging by Volug's exploits during his time with Micaiah, wolf laguz are capable of passing themselves off as simple large dogs.[1]
Behavior
Due to all wolf laguz being from Hatari, and Hatari being isolated from the rest of Tellius, most wolf laguz speak only in the ancient tongue. It is perfectly possible for a wolf laguz to learn the modern tongue through practice, though few have been exposed to the language.
Due to the wolf tribe's isolation, they never heard of the negative prejudices against the branded, and the wolf laguz of Hatari are some of the only laguz to consistently not bear ill will to Branded.
Wolves are not strangers to battle and attack with their teeth and claws when transformed, and with kicks in humanoid state.
Notable wolves
Character
Description
Appears in

Nailah
The queen of the lost nation of Hatari. A wolf laguz of grace and determination, she crosses the Desert of Death to meet with other laguz tribes for the first time in eight hundred years.

Radiant Dawn


Volug
A wolf laguz in the service of Nailah, Queen of Hatari. Reticent in the extreme, he is rarely heard to speak. He is capable of shifting into wolf form whenever he chooses.

Radiant Dawn
Class Data
Appearing exclusively in Fire Emblem: Radiant Dawn, Wolves are generally quite powerful, and excel in strength and speed. When attacking while transformed, wolves use their fangs (a form of Strike). When counterattacking untransformed, they defend themselves using kicks.
Wolves do not promote, as they are a laguz class. However, they can reach level 40 instead of the normal level cap of 20. After reaching level 30, wolves can use a Satori Sign to learn their Occult skill, Savage.
Base stats
Max stats
Miscellaneous stats
Class growth rates
See
class growth rate
for more details on the mechanics of class growths in each game.
Class skills
Class change
Radiant Dawn
Playable wolves
Note: Nailah's class is Wolf Queen, a unique Wolf variant exclusive to her.
Flavor text
Game
Text
(English)
Text
(Japanese)

Radiant Dawn


(class roll)

Demihumans who transform into
wolves. They counterattack with
kicks in their human form.
狼に化身して戦うラグズ
人型の時には蹴り技で反撃する

Radiant Dawn


(help, untransformed)

Laguz who fight in wolf form.
They can counterattack with kicks
in their human form.
狼に化身して戦うラグズ
人型の時には蹴り技で反撃する

Radiant Dawn


(help, transformed)

A beast-tribe laguz in wolf form
who uses his abundant strength to
bring down enemies.
獣牙族/狼が化身した姿
余裕の強さで敵を次々と沈める
Etymology and other languages
Transformed
Names, etymology, and in other regions
Language
Name
Definition, etymology, and notes
English

Wolf

--

Japanese

狼

Wolf. In Radiant Dawn, all Japanese class names are spelled primarily in kanji (i.e. 狼), with a foreign-language name in katakana applied as furigana (i.e. ウルフ) and used as the basis for the romanized name in the class roll.

French

Loup

Wolf
Untransformed
Names, etymology, and in other regions
Language
Name
Definition, etymology, and notes
Japanese

獣牙族/狼

Beast Tribe (lit. "beast fang tribe") / Wolf
Gallery
References
↑ "Izuka: S-see here! Sothe! Who were those three, and where did they come from? Will they join my Liberation Army?
Sothe: They are my personal acquaintances from Begnion. And yeah, they can handle themselves in a fight. But if any more laguz join us, there will be problems. We've managed to hide Volug and his true nature, but...with more laguz, it will surely get out." — Izuka and Sothe, Fire Emblem: Radiant Dawn
| | |
| --- | --- |
| | This article is part of Project Classes, a project focused in writing articles for every class present in the Fire Emblem series. |