Site News
Warning: This wiki contains spoilers. Read at your own risk!


Social media: If you would like, please join our Discord server, and/or follow us on Twitter or Tumblr!

Engage info: As the game has only recently released, we lack much key information. Please help add any info that you can.
User
:
SuperAlpaca/Sandbox3
From Fire Emblem Wiki, your source on Fire Emblem information. By fans, for fans.
Like most games, Fire Emblem: The Sacred Stones had many leftover codes and such.
Characters
Beta characters
A Wyvern Rider named Nate was set to appear.
An additional member of Grado's Six Generals was included. Jude Rubert, the Obsidian, was the boss of Chapter 8. His title was the title of Duessel's in the final version of the game.
A character called Demi appeared, but had no other data
Character changes
General stuff
The title screen is the same as the title screen from Fire Emblem: The Blazing Blade.
Leftover stuff from Fire Emblem is left, such as music and map tiles.
Placeholders are used in portraits, enemies, and bosses on maps.
The world map uses different names.
Many maps have minor differences.
In Chapter 7, there is an alternating Fog of War that Seth warns the player about.
Chapter 5x and Chapter 11 of both routes are gone.
There are two additional floors in the Tower of Valni, floors 2 and 3.
The Prologue's objective is to seize the house instead of defeat the boss.
The icon for a Battle Axe is Armads' icon and the icon for a Shamshir is Wo Dao's icon.
Eirika promotes at the beginning of Chapter 17.
Eirika battle animation
After Chapter 8, no more story events (no idea what this means...)
Monster attack with Dark Stone Shard, had Red Gem icon
Chapters
Prologue
In the prologue, the end result is not the same for every playthrough, as it is in the finalized version. Seth does not have any damage taken and the cutscene in the castle and with Valter do not appear. The boss is also a soldier instead of a brigand.
Chapter 6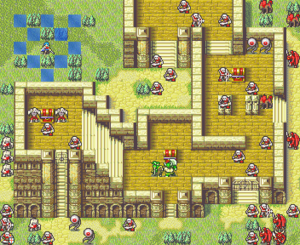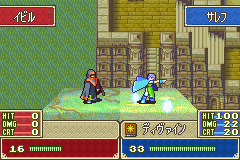 At the beginning of Chapter 6, Eirika hands over her bracelet to Novala. Novala then precedes with killing the Renais family in the presence of Eirika. At the end of the chapter, Saleh appears and asks Novala if he has seen a father and daughter pass by, possibly Morva and Myrrh. Eirika warns Saleh, saying that that man is dangerous. Novala then attacks Saleh, though he does no damage. Saleh then defeats him with a critical hit.