Site News
Warning: This wiki contains spoilers. Read at your own risk!


Social media: If you would like, please join our Discord server, and/or follow us on Twitter or Tumblr!

Engage info: As the game has only recently released, we lack much key information. Please help add any info that you can.
User
:
FinalArcadia
From Fire Emblem Wiki, your source on Fire Emblem information. By fans, for fans.
FinalArcadia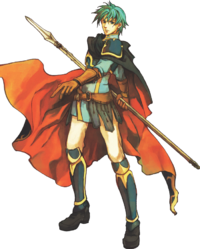 | | |
| --- | --- |
| Gender | Female |
| Age | 18 |
| Location | USA |
| Edit count | 43 |

I'm FinalArcadia. If that username sounds familiar, you've probably seen me commenting on Siliconera a little too much! :)
I love Fire Emblem, so when I saw that some pages were needed, I got to work, starting with Ninian's page! Of course, I'm not so good with all the technical stuff, but I like to at least give a page a solid foundation.
Fire Emblem Experience
My first exposure to the series was Super Smash Bros. Melee, and Roy was my favorite character to play as, so I got interested in where he came from.
My sister got Fire Emblem, the Blazing Sword one, but I ended up being the one who played it most. I still do, actually.
Next up came Fire Emblem: The Sacred Stones, my absolute FAVORITE game in the series. I know it gets a bad rap for being too easy and whatever, but I love the characters and the plot. I especially love Ephraim. He's my favorite character in the series.
I also like Path of Radiance and Radiant Dawn, but Ike was a little too beefed up on steroids for my taste in Radiant Dawn, you know what I mean?
What I've played on Fuuin no Tsurugi I've enjoyed, even if Roy is a little too boring. The only Fire Emblem I haven't enjoyed is Shadow Dragon. Yuck. Marth is about as interesting as watching paint dry, and the graphics and art style are horrendous. If you like it, that's totally fine, but I do not. At all.
Favorite Characters
Ephraim
Innes
Pent
Raven
Eliwood
Soren
Sothe


Ephraim is, like I said, my absolute favorite character in the entire series! Innes is a close second, though. Sacred Stones had the best characters by far, in my opinion. Oh, and I'm not a big female character fan, either. Serra, L'Arachel, and Eirika are alright, but I guess I'm so shallow that my favorites usually end up being the attractive guys (lol)!