Site News
Warning: This wiki contains spoilers. Read at your own risk!


Social media: If you would like, please join our Discord server, and/or follow us on Twitter or Tumblr!

Engage info: As the game has only recently released, we lack much key information. Please help add any info that you can.
Ulster (location)
From Fire Emblem Wiki, your source on Fire Emblem information. By fans, for fans.
It has been proposed that this page be moved to Ulster. Please move this page, or discuss this change on the talk page.

---

Reason: Only thing currently known as Ulster, as the character was renamed
Ulster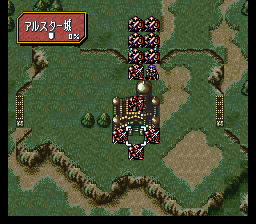 | | |
| --- | --- |
| Capital | Ulster |
| Government | Monarchy |
| Continent | |
Ulster (Japanese: アルスター Alster) is one of the four small kingdoms comprising the Munster District of the Thracian Peninsula of Jugdral, situated in the District's South. During the liberation war, it served as the headquarters of the Friege family, ruled by Bloom, before being freed by Seliph's liberation army.
History
Ulster was originally one of the four kingdom of the Munster District, in an alliance with the other three kingdoms. During the invasion of the District by Thracia, the kingdom of Leonster called for help to the other countries of the district. The king of Ulster refused to send troops, leading to the conquest of the district by Thracia, and later the Grannvale Empire.
In the year 762, Leif arrived in the city of Ulster, trying to hide from the Empire. In 765, the Empire learnt of his presence, forcing him to flee the city. In retaliation, the Empire executed the king, and took the princess of Ulster Miranda hostage. Later, the governor of northern Thracia, Bloom, would set up Ulster as his headquarters.
Around the year 777, the forces of Leonster launched an attack on castle Ulster. Ulster managed to fend off the attack, wiping most of Leonster's troops in the process. Six months later, Seliph's liberation army defeated king Bloom, liberating the city of Ulster.
Characters from Ulster
Gameplay
Ulster is present as a castle in Chapter 7 and 8 of Genealogy of the Holy War. In chapter 7, it is an enemy castle, and seizing it will end the chapter. In chapter 8, it starts as a player castle, and serves as the home castle for the chapter.
Etymology and other languages
Names, etymology and in other regions
Language
Name
Definition, etymology, and notes
English

Ulster

Used in Fire Emblem Heroes. From Ulster, one of four modern-day provinces of Ireland (along with Leinster, Connacht, and Munster).

English
(unofficial)

• Alster
• Ulster

• Used in most Genealogy of the Holy War and Thracia 776 fan translations.
• Used in the "Lil' Manster" fan translation for Thracia 776.

Japanese

アルスター

Officially romanized as Alster. From Ulster.

Spanish

Ulster

French

Ulster

German

Ulster

Italian

Ulster
Gallery
References