Site News
Warning: This wiki contains spoilers. Read at your own risk!


Social media: If you would like, please join our Discord server, and/or follow us on Twitter or Tumblr!

Engage info: As the game has only recently released, we lack much key information. Please help add any info that you can.
Three Houses (Three Hopes chapter)
From Fire Emblem Wiki, your source on Fire Emblem information. By fans, for fans.
Three Houses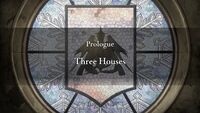 | | |
| --- | --- |
| New units | |
| Boss(es) | |
| Previous chapter(s) | |
| Next chapter(s) | |
Three Houses (Japanese: 三つの学級 Three Classes) is the second chapter of Fire Emblem Warriors: Three Hopes. This chapter consists solely of a battle map, titled Reversal of Fortune.
Plot
Main article: Three Houses (Three Hopes chapter)/Script
Shez arrives at Garreg Mach Monastery, where they are brought before the Archbishop Rhea. Rhea allows them to enroll in the Officer's Academy as a student in the house of their choice. Afterwards, the fencing instructor Jeritza takes charge of Shez's house. If Shez chooses the Black Eagles, Edelgard and Hubert have a private discussion where Edelgard resolves to perform a miracle and rescue an unidentified "her", much to Hubert's worry. Regardless, Shez's monthly mission is to mop up the survivors of Kostas' bandits.
The students arrive at a fortress that has been co-opted by the bandits as their hideout. Shez and their companions wipe out the bandits. Afterwards, Jeritza orders them to search the basement, and they discover a captive Officer's Academy student. A mysterious third faction appears and attacks the students, but they are able to defeat their commander Kronya and her Demonic Beast and escort the captive to safety.
Afterwards, the captive introduces herself as Monica von Ochs, a member of last year's Black Eagles who was abducted shortly before her graduation. When Alois arrives to bring the students home, Monica accuses the monastery librarian Tomas of being her abductor. As the group departs, Arval reveals they cannot remember anything before meeting Shez but that the sight of Kronya stirred a rush of some unidentified emotion. The party heads home, and the Knights of Seiros' investigation of Tomas turns up evidence supporting Monica's accusation. Shez witnesses the Knights attempt to arrest Tomas, but Tomas uses powers similar to those granted by Arval to drop his disguise and flee.
Chapter data
Character data
Black Eagles


Blue Lions

Golden Deer

Characters
New Units
Required Characters




Available Characters
None
Undeployable Characters




Item data
Enemy data
Reinforcements
After entering the Fortress Main Gates:

2 Fighters to the left and right of the Gatekeeper

After reaching the Chapel (?):

1 Thief from the hall northwest of the Gatekeeper's starting position
Third army data
| | Name | Class | Lv | # | HP | Str | Mag | Dex | Spd | Lck | Prf | Def | Res | Cha | Con | Mov | Inventory and Skills |
| --- | --- | --- | --- | --- | --- | --- | --- | --- | --- | --- | --- | --- | --- | --- | --- | --- | --- |
Reinforcements
After seizing the Dungeon:

7 Dark Mages appear; one blocks the exit from the Dungeon, one seizes the Plaza, one appears southeast of the Kitchen, two seize the Guardhouse, one seizes the Chapel, one seizes the Kitchen
NPC data
Name
Class
Lv
#
HP
Str
Mag
Dex
Spd
Lck
Def
Res
Cha
Con
Mov
Inventory and Skills
Monica
Monk
2
1
2566
9
10
9
12
9
9
9
11
6

Iron Tome




Bow Buster Lv 1

• Prioritizes escaping via the central gate.
• Will not move if an enemy officer is nearby.
Reinforcements
After seizing the Dungeon:

Monica appears within the Dungeon
Boss data
Main article: Kronya
Strategy
This section details unofficial strategies that may help with completion of the chapter. This may not work for everybody.
This is the first chapter to require actual strategy. Your deployed units are pre-determined, and you always have Shez, a lance-wielder (Ferdinand/Dimitri/Lorenz), an axe-wielder (Edelgard/Dedue/Hilda), and a ranged unit (Hubert/Ashe/Claude). Start by having Shez kill the first Fighters to open the fortress gates. Take control of your lance-wielder and start attacking nearby Myrmidons while ordering Shez to deal with the Fighters and your axe-wielder to deal with the Soldiers. Once the Thief with the Chest Key appears, prioritize killing him to take the key and then switch to your axe-wielder to claim the Leather Shield. (If you are a Blue Lion, Ashe can open the chest without a key.) Seize the enemy base, descend into the dungeons, and rescue Monica to start the second half of the battle.
Your new objective is to clear a path for Monica to escape. Send Shez ahead to the central room - a remaining enemy Brigand is going to appear for them to kill as a side mission. Have the rest of the party wipe out the Mysterious Mages that accost Monica so she can escape to the outer courtyard. Once you're out of the fortress, Kronya challenges you - kill her with your lance wielder. Then she summons a Demonic Beast to attack you. Overwhelm it with your melee fighters. Armor breaking it twice should be enough to kill it.
Etymology and other languages
Names, etymology and in other regions
Language
Name
Definition, etymology, and notes
English

Three Houses

--

Japanese

三つの学級

Three Classes
Gallery
---
This section has been marked as a stub. Please help improve the page by adding information.
---
References
Fire Emblem Warriors: Three Hopes
Playable characters
Scarlet Blaze
Ashe • Balthus • Bernadetta • Byleth • Caspar • Constance • Dorothea • Edelgard • Ferdinand • Hapi • Hubert • Ignatz • Jeralt • Jeritza • Leonie • Linhardt • Lorenz • Lysithea • Manuela • Marianne • Mercedes • Monica • Petra • Raphael • Shamir • Shez • Yuri
Azure Gleam
Annette • Ashe • Balthus • Bernadetta • Byleth • Catherine • Constance • Dedue • Dimitri • Dorothea • Felix • Flayn • Hapi • Ignatz • Ingrid • Jeralt • Jeritza • Linhardt • Lorenz • Marianne • Mercedes • Petra • Raphael • Rodrigue • Seteth • Shamir • Shez • Sylvain • Yuri
Golden Wildfire
Ashe • Balthus • Bernadetta • Byleth • Claude • Constance • Dorothea • Hapi • Hilda • Holst • Ignatz • Jeralt • Leonie • Linhardt • Lorenz • Lysithea • Marianne • Petra • Raphael • Shamir • Shez • Yuri
Other
Arval • Gatekeeper • Rhea • Sothis
Non-playable characters
Acheron • Alois • Anna • Count Bergliez • Captain Berling • Cleobulus • Fleche • Margrave Gautier • Getz • Count Gloucester • Goneril • Gustave • Hanneman • Count Hevring • The Immaculate One • The Immovable • Judith • Ladislava • Lazley • Randolph • Seiros • Solon • Thales • Tomas • Count Varley • The Wind Caller (TBA)
Bosses
Acheron • Duke Aegir • Anaximandros • Lord Arundel • Count Bergliez • Bias • Byleth • Caspar • Catherine • Claude • Cornelia • Cyril • Death Knight • Dimitri • Dolofonos • Epimenides • Ferdinand • Flayn • Fleche • Margrave Gautier • Ingrid • Jeralt • Kostas • Kronya • Ladislava • Metodey • Myson • Nader • Pallardó • Pittacus • Rhea • Rufus • Seteth • Shahid • Shamir • Shez • Solon • Thales • Count Varley (TBA)
Personal weapons and regalia
Aegis Shield • Amalthea • Areadbhar • Asclepius • Athame • Axe of Ukonvasara • Aymr • Blutgang • Caduceus Staff • Circe Staff • Crusher • Dahaka • Failnaught • Fetters of Dromi • Freikugel • Hrotti • Ichor Scroll • The Inexhaustible • Járngreipr • Labraunda • Lance of Ruin • Lúin • Ochain Shield • Rafail Gem • Ridill • Scroll of Talos • Scythe of Sariel • Seiros Shield • Shamshir • Spear of Assal • Suttungr's Mystery • Sword of Begalta • Sword of Moralta • Sword of Seiros • Sword of the Creator • Tathlum Bow • Thunderbrand • Thyrsus • Vajra-Mushti • Wind Caller's Genesis (TBA)
Chapters
Prologue

0: Crossed Roads • 1: A Chance Encounter • 2: Three Houses • 3: The Shadows of Adrestia / Crisis in Fhirdiad / The Battle for the Locket
Scarlet Blaze

4: The Struggle Commences • 5: Skirmish in the Fog • 6: Bridge of Betrayal • 7: The Triumph of Valor • 8: The Maiden's Peril • 9: Unrest in Enbarr • 10: Shifting History • 11: Heroic Bloodlines • 12: The Rising Darkness • 13: Severing the Past • 14A: A Clash of Ambitions • 14B: Torment of the Eagle and Lion • 15: The Hour of Vengeance • 16: Into the Chasm • Final: A Path Forward
Azure Gleam

4: To War! • 5: Skirmish in the Fog • 6: Conspiracy in the Air • 7: The King Awakens • 8: The Blood-Stained Lance • 9: Reunion at the Fortress City • 10: Fanaticism • 11: Reprisal • 12: A Trick of the Goddess • 13: Clash of Torment • 14: The Absent Emperor • 15: The Hour of Vengeance • 16: Into the Chasm • Final: The End of Tragedy
Golden Wildfire

4: To War! • 5: The Golden Guardian • 6: The Leader's Stratagem • 7: A Contest of Beasts • 8: What Makes a King • 9: The End of the Alliance • 10: Love and Loss • 11: The Sword Swings Wide • 12: Two Kings • 13: Darkness Attacks • 14: A Symbol of the Past • 15: The Hour of Vengeance • 16: Into the Chasm • Final: Field of Beginnings
Paralogues

The Ashen Wolves' Reunion • Coming Clean • Cycles of Nostalgia • Eagles, Lions, and Deer • Enshrouded Memories • Evil's Bane and Love's Protection • A Grand Day for the Opera Company • An Incurable Shut-In • Like Cats and Dogs • Love and Hate in Wartime • Mercenary Complications • A Night of Wonder • A Noble Among Nobles • Raiders from the North • A Reason to Fight • Right Where They're Wanted • The Saints' Forge • The Seiros Snare • Under the Protection of the Golden Deer • Unsettling Truths • What Lies Within • Wildflowers for the Future
Locations
Fódlan • Adrestia • Faerghus • Garreg Mach Monastery (Abyss) • Leicester • Almyra • Brigid • Dagda • Sreng • Zahras
Groups, objects and concepts
10 Elites • Ashen Wolves • Black Eagles • Blue Lions • Children of the Goddess • Church of Seiros (Knights of Seiros) • Crests (Crest Stone) • Golden Deer • Heroes' Relics • Insurrection of the Seven • Monsters • Those who slither in the dark • Tragedy of Duscur • War of Heroes
Related topics
Music Player • Name chart • Other games (

Warriors

•

Three Houses

) • Pre-release information (Unused content)