Site News
Warning: This wiki contains spoilers. Read at your own risk!


Social media: If you would like, please join our Discord server, and/or follow us on Twitter (X) or Tumblr!
Tempest of Swords and Shields/Protecting Garreg Mach
From Fire Emblem Wiki, your source on Fire Emblem information. By fans, for fans.
Protecting Garreg Mach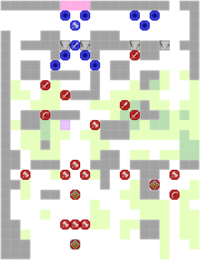 Protecting Garreg Mach (Japanese: ガルグ=マク籠城戦 Siege Battle of Garg Mach) is the main battle map of the fifteenth chapter of the Crimson Flower route in Fire Emblem: Three Houses. In this map, the Black Eagle Strike Force defends Garreg Mach Monastery from being retaken from the Knights of Seiros.
Beginning log
Absorbing the Alliance brings the Empire one step closer to a unified Fódlan. The Black Eagle Strike Force returns to Garreg Mach to plan its invasion of the Kingdom, unaware of the enemy lurking in the shadows.
Map data
Flayn only needs to be defeated if she appears; if the other three bosses are defeated before then, the map will end as normal.
Character data
Characters
New units
Required characters


Available characters




























Item data
Enemy data
Reinforcements
After (Normal/Hard)/Upon (Maddening) reaching the third fence from the center (entering columns 6–12, rows 10–16), or upon defeating both Alois and Shamir or their replacements
After (Normal/Hard)/Upon (Maddening) reaching the cracked roads on the east (entering columns 13–20, rows 10–16), or upon defeating both Alois and Shamir or their replacements; will not appear if Flayn has already appeared to the south
After (Normal/Hard)/Upon (Maddening) passing the southern ramparts (entering rows 18–26); will not appear if Flayn has already appeared to the east
Boss data
Main article: Seteth
Main article: Flayn
Strategy
Maddening
Maddening strategy (can be completed on a normal play through without NG+):
Recommended personnel: Byleth (default), Edelgard (default), Jeritza, Snipers x2 (preferably both will have Hunter's Volley), Dancer x1, Healer x1, Assassin/High Avoid Unit x1, Dark Bishop/Gremory/Warlock x1, Secondary Healer x1 (someone with long-range healing abilities, Mercedes, Dorothea, Manuela, etc.)
Recommended equipment/gambits/combat arts: Deadeye/Meteor/Bolting, Hunter's Volley (mastered Sniper class), Warp/Rescue, Sword of the Creator (fully repaired), Draw Back/Reposition/Swap (for two or three characters), Evasion Ring, Accuracy Rings
If you have Leonie and Lindhardt and have yet to complete The Legend of the Lake paralogue, then you'll need to defeat both Flayn and Seteth with Byleth in order to keep this paralogue. This strategy will proceed with the plan of Byleth defeating both. During the second turn, Hubert will warn of enemies transporting large quantities of flammable materials and that the enemy may be thinking to use a large fire attack on our heroes (this will occur on the 12th turn). This strategy will also prevent this from occurring. Lastly, it should be noted that none of the items carried by Seteth or Flayn can be stolen.
The battle will begin with a warning from Hubert on the layout of the enemies and the possibility of hidden enemies (we're going to avoid this as long as possible). Edelgard will then state to form a defensive line and repel all attackers, which is what we will do with our group on the left.
For the group on your right, consider deploying Jeritza, your high avoid character, and your Warp/Rescue character (this may also be your healer). When the battle begins move Byleth to the group on the right as Flayn is hiding on the right side of the map. Following the initial attacks from the enemies on the left, move one of your Snipers to your group on the right.
Heed Edelgard's advice and have your left group focus on defeating all approaching enemies but do so while staying within the nearby fences and avoiding the wooded area in the middle of the map (if you enter this area, a large group of reinforcements will appear). A good tactic to employ for later chapters is to have someone with a long-range attack available (Deadeye, Meteor, Bolting). These abilities can be used on an enemy who will only approach when you move within their range or they're attacked. Attacked does not mean the ability you use needs to actually hit the enemy, which is where Deadeye can become invaluable as the attack doesn't usually hit but can aggro enemies towards your larger group and with bows cheap and in large supply you can use this combat art without expending the use of a valuable spell like Meteor.
The right side of the map looks deceptively empty but if one of your character lands on one of the spaces just south of where the road/sidewalk ends, Flayn will appear with a large group of reinforcements that contains Pegasus Knights, Heroes, Assassins, and a Warlock. To not leave one of your characters on an island, either Warp a character that is not impeded by terrain (Byleth as the Enlightened One, Petra as an Assassin, etc.) to this spot or move a character there and then use the Rescue spell to bring them back to safety. If neither one of these tactics is available, you can also use the Impregnable Wall gambit on this unit prior to moving them to this space. This hidden group that appears is automatically aggro, so move all of your units just outside of their attack range and dispatch of them as you see fit (it helps to have one of your Hunter's Volley archers with this group at this point). Remember to defeat Flayn with Byleth if you still want to play The Legend of the Lake paralogue. Lastly, make sure to not move any of these character to the wooded area in the middle of the map.
Flayn isn't difficult and will usually go down with one hit from Sublime Heaven. However, if she does not or Miracle activates, use Divine Pulse, take an action with a different unit (move, use a gambit, attack a different enemy, etc.) then try Sublime Heaven again.
Once the hidden enemies on the right and Flayn are all defeated, move your group on the right further south as our focus now is defeating Alois (or if he was recruited, a enemy War Master) stationed at the onager. The group on the left will continue to hold their position and defeat any enemies that approach. Once again, avoid the wooded area in the center of the map.
As you approach Alois/War Master you will take a hit or two from the onager. Make sure your lower defense units are outside of its range as it can kill them on a single hit. Utilize the defensive terrain as you approach to increase your chances of the onager missing. Alois is not difficult to defeat as he has no ranged attack options. Two hits from the Sword of the Creator should be enough.
This part is extremely important. Once the onager is secured, use it to kill Shamir/Boss Sniper just north of Seteth. It will likely take two hits to do this. Once Shamir/Sniper is defeated, Seteth will announce that his ambush plans have been thwarted. All hidden enemies will then appear and the fire attack will not occur (this is extremely satisfying). On the next enemy turn, all remaining enemies, including Seteth, will approach the nearest character to them. Use one of your characters to aggro Seteth near Byleth, then attack him until he can be defeated by Byleth.
Etymology and other languages
Names, etymology, and in other regions
Language
Name
Definition, etymology, and notes
English

Protecting Garreg Mach

--

Japanese

ガルグ=マク籠城戦

Siege Battle of Garg Mach

Spanish

La defensa de Garreg Mach

The defense of Garreg Mach

French

Le siège de Garreg Mach

The siege of Garreg Mach

German

Verteidigung Garreg Machs

Defending Garreg Mach

Italian

Assedio al Garreg Mach

Siege of Garreg Mach

Korean

가르그 마크 농성전

Garreg mach defense

Simplified Chinese

加尔古·玛库围城战

Garg mach siege battle

Traditional Chinese

加爾古‧瑪庫圍城戰

Garg mach siege battle
Gallery
---
This section has been marked as a stub. Please help improve the page by adding information.
---
See also
Fire Emblem: Three Houses
Playable characters

Black Eagles

Bernadetta • Caspar • Dorothea • Edelgard • Ferdinand • Hubert • Linhardt • Petra

Blue Lions

Annette • Ashe • Dedue • Dimitri • Felix • Ingrid • Mercedes • Sylvain

Golden Deer

Claude • Hilda • Ignatz • Leonie • Lorenz • Lysithea • Marianne • Raphael
Other
Alois • AnnaDLC • Byleth • Catherine • Cyril • Flayn • Gilbert • Hanneman • Jeritza • Manuela • Seteth • Shamir

Ashen Wolves

DLC
Balthus • Constance • Hapi • Yuri
Non-playable characters
AbysskeeperDLC • Duke Aegir • Fleche • Gatekeeper • Duke Gerth • Ionius IX • Jeralt • Judith • Ladislava • Nader • Randolph • Rhea • Rodrigue • Sothis
Bosses
Acheron • AelfricDLC • Alois • Lord Arundel • Bias • Blaiddyd • Caspar • Catherine • Charon • Chilon • Claude • Cornelia • Daphnel • Dedue • Death Knight • Dimitri • Dominic • Baron Dominic • Edelgard • Felix • Ferdinand • Flame Emperor • Flayn • Fraldarius • Gautier • Gloucester • Goneril • Gwendal • Hubert • Ingrid • The Immaculate One • The Immovable • Judith • Kostas • Kronya • Ladislava • Lamine • Linhardt • Lonato • Lorenz • Mercedes • Metodey • Miklan • Myson • Nader • Nemesis • Baron OchsDLC • Odesse • Pallardó • Pittacus • Randolph • Rhea • Riegan • Rodrigue • Seteth • Shamir • Solon • Sylvain • Thales • Wandering Beast • The Wind Caller
Background characters
Lord Arundel • Count Bergliez • Cornelia • Margrave Gautier • Glenn • Count Gloucester • Count Hevring • Holst • Lambert • Monica • Patricia • Rufus • Seiros • Sitri • Tomas • Tiana • Count Varley
Personal weapons and regalia
Aegis Shield • Areadbhar • Asclepius • Athame • Axe of Ukonvasara • Aymr • Blutgang • Caduceus Staff • Circe Staff • Crusher • Failnaught • Fetters of Dromi • Freikugel • The Inexhaustible • Lance of Ruin • Lúin • Ochain Shield • Rafail Gem • Scythe of Sariel • Seiros Shield • Spear of Assal • Sword of Begalta • Sword of Moralta • Sword of Seiros • Sword of the Creator • Tathlum Bow • Thunderbrand • Thyrsus • Vajra-Mushti
Chapters
Part I

P: An Inevitable Encounter • 1: Three Houses • 2: Familiar Scenery • 3: Mutiny in the Mist • 4: The Goddess's Rite of Rebirth • 5: Tower of Black Winds • 6: Rumors of a Reaper • 7: Field of the Eagle and Lion • 8: The Flame in the Darkness • 9: The Cause of Sorrow • 10: Where the Goddess Dwells • 11: Throne of Knowledge • 12: To War / Outset of a Power Struggle
Part II
Silver Snow

13: Reunion at Dawn • 14: A King Without a Kingdom • 15: Valley of Torment • 16: The Rose-Colored River • 17: The Impregnable Fortress • 18: The Chaos of War • 19: Conclusion of the Crossing Roads • 20: The City Without Light • 21: Following a Dream
Azure Moon

13: Reunion at Dawn • 14: The Delusional Prince • 15: Valley of Torment • 16: The Rose-Colored River • 17: Blood of the Eagle and Lion • 18: The King's Triumphant Return • 19: The Golden Deer's Plea • 20: The Impregnable Fortress • 21: Our Chosen Paths • 22: Oath of the Dagger
Verdant Wind

13: Reunion at Dawn • 14: The Alliance Leader's Ambitions • 15: Valley of Torment • 16: The Rose-Colored River • 17: Blood of the Eagle and Lion • 18: The Golden Scheme • 19: The Chaos of War • 20: Conclusion of the Crossing Roads • 21: The City Without Light • 22: Fódlan's New Dawn
Crimson Flower

13: Beyond Escape • 14: The Master Tactician • 15: Tempest of Swords and Shields • 16: Lady of Deceit • 17: Field of Revenge • 18: To the End of a Dream
Paralogues
Part I
Black Market SchemeDLC • A Cursed RelicDLC • Death Toll • Dividing the World • Falling Short of Heaven • The Forgotten • Land of the Golden Deer • An Ocean View • Oil and Water • Rumored Nuptials • The Secret MerchantDLC • Sword and Shield of Seiros • Tales of the Red Canyon • True Chivalry • War for the Weak
Part II
Darkness Beneath the Earth • Dividing the World • Eternal Guardian • The Face Beneath • Foreign Land and Sky • Forgotten Hero • Insurmountable • Legend of the Lake • Retribution • The Secret MerchantDLC • The Silver Maiden • The Sleeping Sand Legend • Weathervanes of Fódlan
Cindered Shadows
(DLC side story)

1: The Fourth House • 2: What Lies Beneath • 3: The Rite of Rising • 4: Danger in the Dark • 5: Betrayal • 6: Return to Me • 7: Wolf Pack
Locations
Fódlan • Adrestia • Faerghus • Garreg Mach Monastery (Abyss) • Leicester • Almyra • Brigid • Dagda • Sreng • Zahras
Groups, objects and concepts
10 Elites • Ashen Wolves • Black Eagles (Black Eagle Strike Force) • Blue Lions • Children of the Goddess • Church of Seiros (Knights of Seiros) • Crests (Crest Stone) • Divine Pulse • Golden Deer • Heroes' Relics • Insurrection of the Seven • Monsters • Those who slither in the dark • Tragedy of Duscur • War of Heroes
Related topics
Music Library • Name chart • Other games (

Warriors: Three Hopes

) • Pre-release information • Unused content • Downloadable content • List of quests • Class mastery