Site News
Warning: This wiki contains spoilers. Read at your own risk!


Discord and Twitter: If you would like, please join our Discord server, and/or follow us on Twitter at @FEWikiOfficial!
Super Nintendo Entertainment System
From Fire Emblem Wiki, your source on Fire Emblem information. By fans, for fans.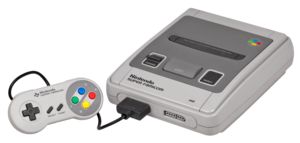 The Super Nintendo Entertainment System (Japanese: スーパーファミコン Super Famicom) is a 16-bit video game console created by Nintendo as its flagship hardware in the fourth generation of video game systems, and the successor of the Nintendo Entertainment System. The system was released in Japan in 1990, in the United States in 1991, and in Europe and Australia in 1992; it was succeeded in 1996 by the Nintendo 64. During its lifetime in Japan, the Super Famicom was supported by the Satellaview satellite modem broadcast add-on for the main console, streaming games and accompanying radio content to the console on a broadcasting schedule.
Three games in the Fire Emblem series were released for the Super Famicom in Japan, in addition to a series of four Satellaview broadcasts collectively known as Fire Emblem: Archanea Saga. None of these games were ever released for the Super Nintendo Entertainment System outside of Japan.
Fire Emblem series games available for the Super Nintendo Entertainment System
Gallery
A Super Famicom system with the Satellaview add-on installed.
References