Site News
Warning: This wiki contains spoilers. Read at your own risk!


Social media: If you would like, please join our Discord server, and/or follow us on Twitter or Tumblr!

Engage info: As the game has only recently released, we lack much key information. Please help add any info that you can.
Skirmish in the Fog (Azure Gleam)
From Fire Emblem Wiki, your source on Fire Emblem information. By fans, for fans.
Skirmish in the Fog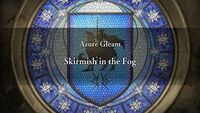 | | |
| --- | --- |
| New units | |
| Previous chapter(s) | |
| Next chapter(s) | |
Skirmish in the Fog is the fifth chapter of Fire Emblem Warriors: Three Hopes on the Azure Gleam route.
Plot
Main article: Skirmish in the Fog (Azure Gleam)/Script
Dimitri reports that Count Rowe has defected to the Empire, Lonato has set out to claim Rhea's head, and Imperial reinforcements are making north to rendezvous with Lonato. The Kingdom army decides to march west, eliminate Lonato, and retake Arianrhod from Count Rowe. Joined by Seteth and Flayn, the Kingdom leaves the capital in the hands of Duke Ifan and moves out. Meanwhile, Count Rowe rages at Lonato's impatience and decides that if Lonato is killed, he will surrender to the Kingdom.
The Kingdom engages Lonato at Magdred Way, where they do battle with Jeralt's Mercenaries (including Alois and Byleth) and are unexpectedly assisted by Miklan, the disowned son of Margrave Gautier who became a brigand. After killing Lonato, Shez laments the fact that Byleth escaped, but Arval reassures them. Dimitri explains that he had Miklan captured two years prior and forced him into allegiance to the Kingdom in the hopes of redeeming him and proving that people without Crests could be just as capable as people with Crests; Miklan will be executed on the spot if he goes rogue, and his estranged brother Sylvain has already approved of the situation. Afterwards, the Kingdom army begins preparations to besiege Arianrhod.
Chapter data
Character data
Characters
New Units
Dorothea

Mage
HP
3421
Inventory


Iron Tome

Level
16
End of chapter if the Persuade Dorothea strategy was used during The Battle of Magdred
Available Characters












Item data
Map data
There are six battle maps in Chapter 4 of Azure Gleam. Each one is detailed below, with what character is recruited on what map and so on.
Strategy
This section details unofficial strategies that may help with completion of the chapter. This may not work for everybody.
---
This section has been marked as a stub. Please help improve the page by adding information.
---
Etymology and other languages
Names, etymology and in other regions
Language
Name
Definition, etymology, and notes
English

Skirmish in the Fog

--
Gallery
---
This section has been marked as a stub. Please help improve the page by adding information.
---
References
Fire Emblem Warriors: Three Hopes
Playable characters
Scarlet Blaze
Ashe • Balthus • Bernadetta • Byleth • Caspar • Constance • Dorothea • Edelgard • Ferdinand • Hapi • Hubert • Ignatz • Jeralt • Jeritza • Leonie • Linhardt • Lorenz • Lysithea • Manuela • Marianne • Mercedes • Monica • Petra • Raphael • Shamir • Shez • Yuri
Azure Gleam
Annette • Ashe • Balthus • Bernadetta • Byleth • Catherine • Constance • Dedue • Dimitri • Dorothea • Felix • Flayn • Hapi • Ignatz • Ingrid • Jeralt • Jeritza • Linhardt • Lorenz • Marianne • Mercedes • Petra • Raphael • Rodrigue • Seteth • Shamir • Shez • Sylvain • Yuri
Golden Wildfire
Ashe • Balthus • Bernadetta • Byleth • Claude • Constance • Dorothea • Hapi • Hilda • Holst • Ignatz • Jeralt • Leonie • Linhardt • Lorenz • Lysithea • Marianne • Petra • Raphael • Shamir • Shez • Yuri
Other
Arval • Gatekeeper • Rhea • Sothis
Non-playable characters
Acheron • Alois • Anna • Count Bergliez • Captain Berling • Cleobulus • Fleche • Margrave Gautier • Getz • Count Gloucester • Goneril • Gustave • Hanneman • Count Hevring • The Immaculate One • The Immovable • Judith • Ladislava • Lazley • Randolph • Seiros • Solon • Thales • Tomas • Count Varley • The Wind Caller (TBA)
Bosses
Acheron • Duke Aegir • Anaximandros • Lord Arundel • Count Bergliez • Bias • Byleth • Caspar • Catherine • Claude • Cornelia • Cyril • Death Knight • Dimitri • Dolofonos • Epimenides • Ferdinand • Flayn • Fleche • Margrave Gautier • Ingrid • Jeralt • Kostas • Kronya • Ladislava • Metodey • Myson • Nader • Pallardó • Pittacus • Rhea • Rufus • Seteth • Shahid • Shamir • Shez • Solon • Thales • Count Varley (TBA)
Personal weapons and regalia
Aegis Shield • Amalthea • Areadbhar • Asclepius • Athame • Axe of Ukonvasara • Aymr • Blutgang • Caduceus Staff • Circe Staff • Crusher • Dahaka • Failnaught • Fetters of Dromi • Freikugel • Hrotti • Ichor Scroll • The Inexhaustible • Járngreipr • Labraunda • Lance of Ruin • Lúin • Ochain Shield • Rafail Gem • Ridill • Scroll of Talos • Scythe of Sariel • Seiros Shield • Shamshir • Spear of Assal • Suttungr's Mystery • Sword of Begalta • Sword of Moralta • Sword of Seiros • Sword of the Creator • Tathlum Bow • Thunderbrand • Thyrsus • Vajra-Mushti • Wind Caller's Genesis (TBA)
Chapters
Prologue

0: Crossed Roads • 1: A Chance Encounter • 2: Three Houses • 3: The Shadows of Adrestia / Crisis in Fhirdiad / The Battle for the Locket
Scarlet Blaze

4: The Struggle Commences • 5: Skirmish in the Fog • 6: Bridge of Betrayal • 7: The Triumph of Valor • 8: The Maiden's Peril • 9: Unrest in Enbarr • 10: Shifting History • 11: Heroic Bloodlines • 12: The Rising Darkness • 13: Severing the Past • 14A: A Clash of Ambitions • 14B: Torment of the Eagle and Lion • 15: The Hour of Vengeance • 16: Into the Chasm • Final: A Path Forward
Azure Gleam

4: To War! • 5: Skirmish in the Fog • 6: Conspiracy in the Air • 7: The King Awakens • 8: The Blood-Stained Lance • 9: Reunion at the Fortress City • 10: Fanaticism • 11: Reprisal • 12: A Trick of the Goddess • 13: Clash of Torment • 14: The Absent Emperor • 15: The Hour of Vengeance • 16: Into the Chasm • Final: The End of Tragedy
Golden Wildfire

4: To War! • 5: The Golden Guardian • 6: The Leader's Stratagem • 7: A Contest of Beasts • 8: What Makes a King • 9: The End of the Alliance • 10: Love and Loss • 11: The Sword Swings Wide • 12: Two Kings • 13: Darkness Attacks • 14: A Symbol of the Past • 15: The Hour of Vengeance • 16: Into the Chasm • Final: Field of Beginnings
Paralogues

The Ashen Wolves' Reunion • Coming Clean • Cycles of Nostalgia • Eagles, Lions, and Deer • Enshrouded Memories • Evil's Bane and Love's Protection • A Grand Day for the Opera Company • An Incurable Shut-In • Like Cats and Dogs • Love and Hate in Wartime • Mercenary Complications • A Night of Wonder • A Noble Among Nobles • Raiders from the North • A Reason to Fight • Right Where They're Wanted • The Saints' Forge • The Seiros Snare • Under the Protection of the Golden Deer • Unsettling Truths • What Lies Within • Wildflowers for the Future
Locations
Fódlan • Adrestia • Faerghus • Garreg Mach Monastery (Abyss) • Leicester • Almyra • Brigid • Dagda • Sreng • Zahras
Groups, objects and concepts
10 Elites • Ashen Wolves • Black Eagles • Blue Lions • Children of the Goddess • Church of Seiros (Knights of Seiros) • Crests (Crest Stone) • Golden Deer • Heroes' Relics • Insurrection of the Seven • Monsters • Those who slither in the dark • Tragedy of Duscur • War of Heroes
Related topics
Music Player • Name chart • Other games (

Warriors

•

Three Houses

) • Pre-release information (Unused content)