Site News
Warning: This wiki contains spoilers. Read at your own risk!


Discord and Twitter: If you would like, please join our Discord server, and/or follow us on Twitter at @FEWikiOfficial!
Roy/Super Smash Bros. series
From Fire Emblem Wiki, your source on Fire Emblem information. By fans, for fans.
Super Smash Bros. Melee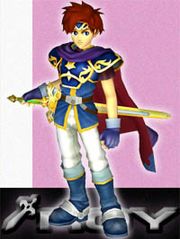 Roy is an unlockable playable character in Super Smash Bros. Melee, in his debut appearance in any game. Roy was originally placed in Melee at the request of Intelligent Systems in order to act as a promotion for the then-upcoming Fire Emblem: The Binding Blade. Roy is unlocked through using Marth to complete Classic Mode without using a continue, or by playing 900 matches in VS Mode. He is a clone of Marth, meaning that he was created by reusing Marth's animations and assets with several modifications, and as a result the two have nearly identical animations and motions while also having very different physics and play styles. Compared to Marth, Roy is lighter but slower, some of his attacks uniquely possess fire effects, and his sword blows are much more powerful when landed with the center of Roy's Binding Blade, encouraging a close-quarters play style. In competitive environments, Roy is viewed as drastically inferior to Marth with the differences between them considered to severely hamper Roy's effectiveness in comparison, and he is currently ranked in twentieth place in the current widely accepted Melee tier list.
Along with the game's other five clone characters, Roy's presence in the game was not part of the original design plans, and he and the other clones was added late in development to help easily increase the roster's size. During the Japanese development, Marth and Roy were intended to remain exclusive to the Japanese version and be removed from international releases of the game, owing to their then irrelevance to international audiences; however, the localization teams came to like the two and instead chose to leave both characters in the game, both still speaking Japanese to reflect their Japan-only status.[1][2] In the international releases of the game, the positive reception of both characters among international audiences is widely credited as being the catalyst for Nintendo's international subsidiaries to commence localizing and releasing future installments in the Fire Emblem series in the United States, Europe and other nations.
Special moves
Trophies
Roy

The son of the lord of Pharae Principality, Roy was studying in Ostia when the Kingdom of Bern invaded League of Lycia. His father fell ill at this time, so Roy assumed leadership of Pharae's armies. After his fateful meeting with the Princess Guinevere, his destiny became inextricably linked with the fate of the entire continent.

---

• Fire Emblem (Japan Only)

Classic Mode
Roy [Smash]

While Roy's moves are well balanced, he's a little on the slow side, and doesn't excel at midair combat. His blade, the Sword of Seals, gives him excellent reach, and makes his Double-Edge Dance slightly different then Marth's Dancing Blade. When it's fully charged, Roy's destructive Flare Blade delivers an instant KO.

---

• B: Flare Blade • Smash B: Double-Edge Dance

Adventure Mode
Roy [Smash]

Roy's blade is different than Marth's: he does the most damage hitting with the center of his sword. So, a fearless advance into the arms of his foe is Roy's best bet. Blazer is a bit slower than Marth's Dolphin Slash, but it's still a mighty attack that sets anyone it strikes aflame. Roy's attack after using Counter differs slightly from Marth's.

---

• Up & B: Blazer • Down & B: Counter

All-Star Mode
Super Smash Bros. Brawl
Roy is no longer playable in Super Smash Bros. Brawl, with Ike replacing him as the second Fire Emblem series representative alongside Marth. While it is possible that Roy was removed due to no longer being relevant as a recent main character of a game, it is also possible that he was intended to be included and was cut solely because of time constraints disallowing him to be finished for a timely release of the game. Through hacking, unused remnants of character data and an empty unused victory fanfare file have been found hidden within the game's data, suggesting the latter scenario. Extensive further hacking of Brawl ultimately allowed players to implement Roy as a fully playable character, either in place of another character or as a separate character in his own right, as he is playable in the popular Brawl mods Project M and Brawl-.
Roy's sole representation in the official completed game is as a sticker.
Super Smash Bros. for Nintendo 3DS and Wii U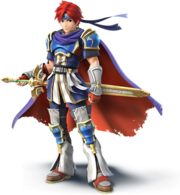 Roy returned to the Super Smash Bros. series in Super Smash Bros. for Nintendo 3DS and Wii U as paid downloadable content, released on June 14th 2015 alongside Ryu from the Street Fighter series and Lucas from Mother 3. Prior to release, Roy and Ryu were inadvertently leaked when Nintendo uploaded version 1.0.8 of for Wii U to their eShop servers early and hackers extracted its contents.[3] Prior to this, these two were leaked when sound files with their names on them were found in the data of version 1.0.6 of for Nintendo 3DS.[4]
Roy now sports a revised design which is primarily based on his original The Binding Blade appearance with elements of his Awakening DLC design added. Unlike Lucina, his fellow clone of Marth, he has been reworked to distance himself from Marth in both aesthetics and gameplay, which now makes him a "semi-clone". In many of his attacks he now slashes with a reverse grip, altering his range, and some of his moves are completely new and different from Marth, such as his new down aerial attack. Like Marth, his range is now shorter than what he had in Melee, but he compensates for this with drastic increases to his speed, allowing him to act as the close-quarters fighter he was originally intended to be. He also gains a Final Smash, Critical Hit, which is radically different from Marth and Lucina's version of the move in both style and function, and imitates his critical hit animation with the Binding Blade from his native game. In competitive environments he is regarded as having been significantly improved compared to his Melee appearance, but his flaws combined with a near-total lack of representation in tournaments result in poor standings on the current tier list, where he is in 42nd place in the E tier.
Like all playable characters in Super Smash Bros. for Nintendo 3DS and Wii U, Roy has an amiibo figurine. This amiibo can be scanned by Smash Bros. to add a trainable AI Roy into matches, which can be ported between copies of the game.
Marth also has an alternate color scheme which gives him Roy's Melee outfit colors.
Special moves
Like the other DLC characters, Roy does not have any customizable special moves and can only use his pre-set default special moves, taken from Melee.
Trophies
Roy
Roy, the main character of Fire Emblem: The Binding Blade, returns for the first time since Melee! In The Binding Blade, Roy led the troops of Pherae into battle in his ailing father's stead, and now he brings his speed and talent for short-range combat into this game. His sword, the Sword of Seals, is uniquely powerful at the base of the blade.

---

• Fire Emblem: The Binding Blade (2002 (JP))

Classic Mode (both versions)
Roy (Alt.)


Flare Blade creates an explosion in front of Roy that can be charged by holding down the button. Take care, though, because at the highest levels of charge, Roy himself will catch fire and take damage! His side special, Double-Edge Dance, changes for each strike after the first depending on whether you hold up or down while attacking.

---

• Fire Emblem: The Binding Blade (2002 (JP))

All-Star Mode (3DS)/
Trophy Shop (Wii U)
Critical Hit (Roy)
For Roy's Final Smash, he traps enemies in a circular swing of the blade, brings it up behind him, and then, in a blast of fire, brings the blade down for a powerful finisher! The downward attack is powerful on its own but doesn't have much range, so make sure you're close enough to hit your enemies with the full combo and really seal their fate!

All-Star Mode (Wii U)
Super Smash Bros. Ultimate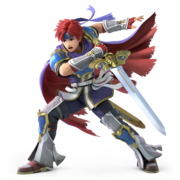 Roy returns in Super Smash Bros. Ultimate with the same design he had in for Nintendo 3DS and Wii U. During the transition, Roy has gained an Echo Fighter in the form of Awakening's protagonist Chrom.
Roy's Ultimate incarnation is unanimously considered to be his best incarnation, as the transition between Smash 4 and Ultimate granted Roy several buffs, most notably an increase in speed and power to most of his moves. His biggest buff is from the game's mechanics, which allows his close-up playstyle to be much safer and powerful than before. His fast powerful attacks, combo, and great frame data help him much when playing in a competitive match. As a result, he is considered viable in the current metagame being considered a upper high or a top tier character. As well proven to be one of the best swordfighters in the game along with Chrom and Lucina, as long as some considered to be the best, while Lucina is mostly considered to be better.
In the World of Light, Roy was vaporized along with everyone else except Kirby. Roy is one of the last character that can be saved, and is encountered in Dharkon's realm.
Special moves
Flare Blade (Japanese:

エクスプロージョン

Explosion): Roy's standard special move. A fire-channeling strike which can be charged for up to five seconds to deal a more powerful blow; at maximum charge, it can one-hit KO most characters at 0% (with few exceptions), but will also damage Roy himself. Roy now shares this move with his echo fighter Chrom.
Double-Edge Dance (Japanese:

マーベラスコンビネーション

Marvelous Combination): Roy's side special move. A combination of four sword strikes, which attack in different directions depending on which way the analog stick is pointed for each swipe. The fourth strike, as well as the third if downward, sets his sword ablaze and deals fire damage. The move is significantly faster than before, allowing it to hit all four strikes more consistently; this is shared with Marth, Lucina, and Chrom's variations.
Blazer (Japanese:

ブレイザー

Blazer): Roy's up special move. A sweeping upward strike which carries Roy into the air with his sword ablaze; can be used as a recovery move to try and climb back onto a stage if Roy falls off. Grants less vertical distance but more horizontal distance than Marth and Lucina's Dolphin Slash.
Counter (Japanese:

カウンター

Counter): Roy's down special move. Roy assumes a brief defensive stance and will retaliate if struck in this stance, cancelling the foe's attack and dealing to the foe 1.35x the damage Roy would have sustained.
Critical Hit (Japanese:

必殺の一撃

Critical Hit): Roy's Final Smash. Roy moves the Binding Blade in a circle, then sharply whips it down behind him and unleashes a single, powerful overhead swing which deals immense damage to the foe if it hits, accompanied by a rapidly depleting Fire Emblem-style HP bar.
Pit: Look! Marth dyed his hair red!
Palutena: Actually, that's the Young Lion, Roy.
Pit: The Young Lion?
Viridi: He's 15 years old.
Pit: 15 years old?! Is that even legal?!
Viridi: It is in Ostia, where Roy spends his days as a noble, being smart, brave, and dependable. I bet he smells like heaven!
Pit: How am I supposed to compete with a guy like that?
Palutena: By not getting too close, for one thing. His Binding Blade is extremely powerful at close range.
Pit: Or maybe instead of fighting, he'd be willing to talk out our differences?
Palutena: Don't be a baby, Pit. Just keep Roy at a distance and you'll be fine. He's only dangerous if he gets close. But once he gets close, prepare to get mauled.
There is no Codec Conversations about Roy as it reuses the dialogue from Super Smash Bros. Brawl, which Roy was not a playable character in.
Spirit data
Roy's fighter spirit can be obtained either by completing his route in classic mode or buying it in the vault.
Trivia
Due to a programming error, Roy cannot be fought as an opponent in Classic Mode of Super Smash Bros. Melee. As a result, his intro image goes unused.
In Super Smash Bros. Melee, Roy has a sheath that appears in the game's intro image, official art, and victory poses. However, the sheath does not appear during gameplay.
In Super Smash Bros. Melee, a few of Roy's graphic textures contain the hidden text "©HAL LABRATORY.INC".
Gallery
References