Site News
Warning: This wiki contains spoilers. Read at your own risk!


Social media: If you would like, please join our Discord server, and/or follow us on Twitter (X) or Tumblr!
Mutiny in the Mist/The Magdred Ambush
From Fire Emblem Wiki, your source on Fire Emblem information. By fans, for fans.
The Magdred Ambush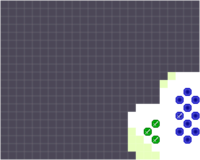 | | |
| --- | --- |
| Location | Magdred Way |
| Weather | |
| Boss(es) | |
| Previous chapter(s) | |
| Next chapter(s) | |
The Magdred Ambush (Japanese: マグドレド奇襲戦 Magdred Surprise Attack) is the main battle map of the third chapter in Fire Emblem: Three Houses. In this map, Byleth and their students suppress a rebellion led by Lord Lonato.
Beginning log
Your house must help the Knights of Seiros suppress Lord Lonato's rebellion at Castle Gaspard. Though you are told not to expect combat, the deep fog at Magdred Way sets you ill at ease...
Map data
Character data
Black Eagles


Blue Lions

Golden Deer

Item data
| | Name | Obtainment Method |
| --- | --- | --- |
| | Secret Book | Automatically at the end of the map if all NPCs survived |
| | Goddess Icon | Automatically at the end of the map if at least two NPCs survived |
Enemy data
Reinforcements
Upon defeating the Gaspard Commander
NPC data
Boss data
Main article: Lonato
Skill Levels

| | | | | | | | | | | | |
| --- | --- | --- | --- | --- | --- | --- | --- | --- | --- | --- | --- |
| | | | | | | | | | | | |
| E | D | E | E | E | E | E | E | E | E | E | |
Strategy
This section details unofficial strategies that may help with completion of the chapter. This may not work for everybody.
Fog. Fun! Fortunately for you, the enemies don't tend to swarm, so you should be all right as long as you aren't too insanely reckless. On Maddening, the previous sentence doesn't hold water at all, and everyone save Byleth and the lord are still being doubled. Don't be a cheapskate. Buy torches. By the end of this map, you should have no units remaining in the Noble/Commoner class.
Start by advancing into the fog and picking off anyone who approaches one at a time. Catherine quads everyone, kills them in one hit, and is functionally immortal, so you only need to worry about protecting her two minions to get the goodies at the end of the map. Your goal is to reach the isolated chunk of forest to the west, because that's where the sub-commander is hiding. Kill him to lift the fog. Once that's taken care of, you can finally see clearly. Advance carefully, take out the enemies as they come, and make your way to Lonato. You can also backtrack to the northeast corner and pick those guys off if you want/need the experience. Lonato shouldn't be too much trouble, especially if one of your lance wielders has Knightkneeler. Bear in mind that while Catherine herself won't vulture your kill here, Catherine's goons will try to pick a fight with him and get themselves killed, costing you your Secret Book and Goddess Icon.
Etymology and other languages
Names, etymology, and in other regions
Language
Name
Definition, etymology, and notes
English

The Magdred Ambush

--

Japanese

マグドレド奇襲戦

Magdred Surprise Attack

Spanish

Emboscada en Magdred

Ambush at Magdred

French

L'embuscade sur Magdred

The Magdred Ambush

German

Der Magdred-Hinterhalt

The Magdred Ambush

Italian

Imboscata sulla Magdred

Ambush on Magdred

Korean

마그드레드 기습전

Magdred surprise attack

Simplified Chinese

马格德雷多奇袭战

Magdred surprise battle

Traditional Chinese

馬格德雷多奇襲戰

Magdred surprise battle
Gallery
---
This section has been marked as a stub. Please help improve the page by adding information.
---
Fire Emblem: Three Houses
Playable characters

Black Eagles

Bernadetta • Caspar • Dorothea • Edelgard • Ferdinand • Hubert • Linhardt • Petra

Blue Lions

Annette • Ashe • Dedue • Dimitri • Felix • Ingrid • Mercedes • Sylvain

Golden Deer

Claude • Hilda • Ignatz • Leonie • Lorenz • Lysithea • Marianne • Raphael
Other
Alois • AnnaDLC • Byleth • Catherine • Cyril • Flayn • Gilbert • Hanneman • Jeritza • Manuela • Seteth • Shamir

Ashen Wolves

DLC
Balthus • Constance • Hapi • Yuri
Non-playable characters
AbysskeeperDLC • Duke Aegir • Fleche • Gatekeeper • Duke Gerth • Ionius IX • Jeralt • Judith • Ladislava • Nader • Randolph • Rhea • Rodrigue • Sothis
Bosses
Acheron • AelfricDLC • Alois • Lord Arundel • Bias • Blaiddyd • Caspar • Catherine • Charon • Chilon • Claude • Cornelia • Daphnel • Dedue • Death Knight • Dimitri • Dominic • Baron Dominic • Edelgard • Felix • Ferdinand • Flame Emperor • Flayn • Fraldarius • Gautier • Gloucester • Goneril • Gwendal • Hubert • Ingrid • The Immaculate One • The Immovable • Judith • Kostas • Kronya • Ladislava • Lamine • Linhardt • Lonato • Lorenz • Mercedes • Metodey • Miklan • Myson • Nader • Nemesis • Baron OchsDLC • Odesse • Pallardó • Pittacus • Randolph • Rhea • Riegan • Rodrigue • Seteth • Shamir • Solon • Sylvain • Thales • Wandering Beast • The Wind Caller
Background characters
Lord Arundel • Count Bergliez • Cornelia • Margrave Gautier • Glenn • Count Gloucester • Count Hevring • Holst • Lambert • Monica • Patricia • Rufus • Seiros • Sitri • Tomas • Tiana • Count Varley
Personal weapons and regalia
Aegis Shield • Areadbhar • Asclepius • Athame • Axe of Ukonvasara • Aymr • Blutgang • Caduceus Staff • Circe Staff • Crusher • Failnaught • Fetters of Dromi • Freikugel • The Inexhaustible • Lance of Ruin • Lúin • Ochain Shield • Rafail Gem • Scythe of Sariel • Seiros Shield • Spear of Assal • Sword of Begalta • Sword of Moralta • Sword of Seiros • Sword of the Creator • Tathlum Bow • Thunderbrand • Thyrsus • Vajra-Mushti
Chapters
Part I

P: An Inevitable Encounter • 1: Three Houses • 2: Familiar Scenery • 3: Mutiny in the Mist • 4: The Goddess's Rite of Rebirth • 5: Tower of Black Winds • 6: Rumors of a Reaper • 7: Field of the Eagle and Lion • 8: The Flame in the Darkness • 9: The Cause of Sorrow • 10: Where the Goddess Dwells • 11: Throne of Knowledge • 12: To War / Outset of a Power Struggle
Part II
Silver Snow

13: Reunion at Dawn • 14: A King Without a Kingdom • 15: Valley of Torment • 16: The Rose-Colored River • 17: The Impregnable Fortress • 18: The Chaos of War • 19: Conclusion of the Crossing Roads • 20: The City Without Light • 21: Following a Dream
Azure Moon

13: Reunion at Dawn • 14: The Delusional Prince • 15: Valley of Torment • 16: The Rose-Colored River • 17: Blood of the Eagle and Lion • 18: The King's Triumphant Return • 19: The Golden Deer's Plea • 20: The Impregnable Fortress • 21: Our Chosen Paths • 22: Oath of the Dagger
Verdant Wind

13: Reunion at Dawn • 14: The Alliance Leader's Ambitions • 15: Valley of Torment • 16: The Rose-Colored River • 17: Blood of the Eagle and Lion • 18: The Golden Scheme • 19: The Chaos of War • 20: Conclusion of the Crossing Roads • 21: The City Without Light • 22: Fódlan's New Dawn
Crimson Flower

13: Beyond Escape • 14: The Master Tactician • 15: Tempest of Swords and Shields • 16: Lady of Deceit • 17: Field of Revenge • 18: To the End of a Dream
Paralogues
Part I
Black Market SchemeDLC • A Cursed RelicDLC • Death Toll • Dividing the World • Falling Short of Heaven • The Forgotten • Land of the Golden Deer • An Ocean View • Oil and Water • Rumored Nuptials • The Secret MerchantDLC • Sword and Shield of Seiros • Tales of the Red Canyon • True Chivalry • War for the Weak
Part II
Darkness Beneath the Earth • Dividing the World • Eternal Guardian • The Face Beneath • Foreign Land and Sky • Forgotten Hero • Insurmountable • Legend of the Lake • Retribution • The Secret MerchantDLC • The Silver Maiden • The Sleeping Sand Legend • Weathervanes of Fódlan
Cindered Shadows
(DLC side story)

1: The Fourth House • 2: What Lies Beneath • 3: The Rite of Rising • 4: Danger in the Dark • 5: Betrayal • 6: Return to Me • 7: Wolf Pack
Locations
Fódlan • Adrestia • Faerghus • Garreg Mach Monastery (Abyss) • Leicester • Almyra • Brigid • Dagda • Sreng • Zahras
Groups, objects and concepts
10 Elites • Ashen Wolves • Black Eagles (Black Eagle Strike Force) • Blue Lions • Children of the Goddess • Church of Seiros (Knights of Seiros) • Crests (Crest Stone) • Divine Pulse • Golden Deer • Heroes' Relics • Insurrection of the Seven • Monsters • Those who slither in the dark • Tragedy of Duscur • War of Heroes
Related topics
Music Library • Name chart • Other games (

Warriors: Three Hopes

) • Pre-release information • Unused content • Downloadable content • List of quests • Class mastery