Site News
Warning: This wiki contains spoilers. Read at your own risk!


Discord and Twitter: If you would like, please join our Discord server, and/or follow us on Twitter at @FEWikiOfficial!
Knight Lord
From Fire Emblem Wiki, your source on Fire Emblem information. By fans, for fans.
| | |
| --- | --- |
| Unit type(s) | Mounted |
| Weapon(s) | |
| Skill(s) | |
The Knight Lord (Japanese: ロードナイト Lordknight) is an advanced, mounted lord-type class. It is shared by three Fire Emblem series protagonists: it is the promoted class for Seliph of Genealogy of the Holy War and Eliwood of Fire Emblem: The Blazing Blade, and is the initial class of Sigurd, Seliph's father, in Genealogy. Wielding swords and lances, the class is very similar to the Paladin.
In Genealogy of the Holy War, the Knight Lord promotes from Junior Lord under the usual circumstances for the game; it is not a story-driven event and can be done at any time once Seliph reaches Level 20. In The Blazing Blade, it promotes from Eliwood's Lord variant, the circumstances of which depend on the story mode in question; in Eliwood's tale mode, the promotion is an automatic event at the end of Chapter 27, while in Hector's story mode, the Heaven Seal promotion item can be used at any time under the usual promotion circumstances.
Additionally, an unused unpromoted class that shares the same name in western versions (Japanese: リキア騎士 Lycia Knight) is also found in the data of The Blazing Blade.
Stats
Base stats
Game
HP
Strength
Magic
Skill
Speed
Luck
Defense
Resistance
Movement
Constitution
Weight
Experience
CRP
Weapon level

Genealogy of the Holy War

40
10
0
7
7
0
7
3
9
--
--
--
--
A B

The Blazing Blade

18
3
--
3
4
0
5
0
7
9
--
--
3
D D

The Blazing Blade


Unused
20
5
--
2
5
0
6
0
7
7
--
--
3
E D
Max stats
Class growth rates
See
class growth rate
for more details on the mechanics of class growths in each game.
Promotion gains
Class skills
Class change
Genealogy of the Holy War
The Blazing Blade
Used:
Unused:
Playable Knight Lords
Flavor text
Game
Text
(English)
Text
(Japanese)

The Blazing Blade


(class roll)
Eliwood, a young noble of Pherae.
A swordfighter with an important mission.
フェレ侯公子 エリウッド
重要な役わりをになう剣の使い手

The Blazing Blade


(help, used variant)
An honorific bestowed upon
Lycia's mounted knights.
君主たる資質を備えた者の称号
騎馬を駆って戦う リキアの騎士

The Blazing Blade


(help, unused variant)
A noble attached to a ruling
house. Has great potential.
領地をおさめる君主の後継
まだ年若い 未完の大器
Trivia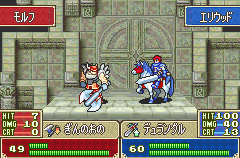 Etymology and other languages
Names, etymology and in other regions
Language
Name
Definition, etymology and notes
English

Knight Lord

--

English
(unofficial)

Lord Knight

Used in older versions of the Genealogy of the Holy War fan translation.

Japanese

Officially romanized as Lordknight.
Lycia Knight; Used for the unused variant in The Blazing Blade.

Spanish

Lord caballero

Knight lord

French

Lord Equus

Horse Lord; from the Latin equus, "horse".

German

Edelmann

Nobleman

Italian

Lord cavaliere

Knight lord
Gallery
References
See also
| | |
| --- | --- |
| | This article is part of Project Classes, a project focused in writing articles for every class present in the Fire Emblem series. |