Site News
Warning: This wiki contains spoilers. Read at your own risk!


Discord and Twitter: If you would like, please join our Discord server, and/or follow us on Twitter at @FEWikiOfficial!
Iote's Shield
From Fire Emblem Wiki, your source on Fire Emblem information. By fans, for fans.
Iote's Shield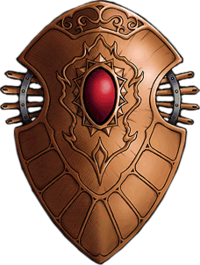 Artwork of Iote's Shield from Mystery of the Emblem.
---
A shield that negates bonus damage to the flier who carries it.
Iote's Shield (Japanese: アイオテの盾 Iote's Shield) is an accessory item appearing in the Fire Emblem series. The shield is a Macedonian treasure that originally belonged to Iote, the founder of Macedon, who used it in his uprising against Dolhr. In Mystery of the Emblem it negates all bonus damage to whomever holds it, but it was revised in the DS installments to specifically provide its effects only toward flying classes, along the lines of Elibe's Delphi Shield and Magvel's Fili Shield.
From Awakening onward, it is a skill instead. It performs the same function by negating a flying unit's weakness to bows and wind magic. In Awakening, it is exclusively available through downloadable content.
In Heroes, it is available to Michalis as a A-type passive skill which can be passed to other flying units via the skill inheritance system, and is also available as a Sacred Seal. In Warriors, it is Minerva's main skill crest, which once again can be used by non-flying units.
Data
Item data
Skill data
In the main Fire Emblem series
In other Fire Emblem series titles
Game
Icon
Effect
Activation
Capacity
Notes

Heroes

Negates bonus damage against the bearer.
--
--
Cost: 200 SP
Flying units only

Warriors

Negates bonus damage against the bearer.
--
--
--
Locations and availability
Mystery of the Emblem
Shadow Dragon
New Mystery of the Emblem
Awakening
Heroes
Warriors
Flavor text
---
This section has been marked as a stub. Please help improve the page by adding information.
---
Etymology and other languages
Names, etymology and in other regions
Language
Name
Definition, etymology and notes
English

Iote's Shield

Japanese

アイオテの盾

Iote's Shield; the Fire Emblem Museum website romanized it as "Iote's shild"[sic].[1]

Spanish

Escudo de Iote
Escudo Iote

Iote's shield; used in all titles but Heroes.
Itoe shield; used in Heroes.

French

Écu d'Iote

Iote's shield

German

Iotes Schild

Iote's shield

Italian

Scudo di Iote

Iote's shield

Portuguese
(Brazil)

Escudo Iote

Iote shield

Traditional Chinese

艾奧特之盾

Iote's shield
Gallery
References
See also
| | |
| --- | --- |
| Similar items: | Similar skills: |
Type A passive skills in Heroes
Sacred Seal skills in Heroes