Site News
Warning: This wiki contains spoilers. Read at your own risk!


Social media: If you would like, please join our Discord server, and/or follow us on Twitter (X) or Tumblr!
Fire Emblem Wii
From Fire Emblem Wiki, your source on Fire Emblem information. By fans, for fans.
Not to be confused with Fire Emblem: Radiant Dawn, the Fire Emblem series game that was released on the Wii.
---
This article contains information about a cancelled game or expansion. Because of this, some information may be speculative and may never be complete.
---
| | |
| --- | --- |
| Developer(s) | |
| Release date(s) | Cancelled |
| Platform(s) | |
| Predecessor | |
| Successor | |
Fire Emblem Wii (Japanese: ファイアーエムブレム WII) was an experimental Fire Emblem title that was in development after the release of Fire Emblem: Radiant Dawn. This game was not alluded to or revealed in any fashion during its development. The only information on it was released several years after it was cancelled in The Making of Fire Emblem – 25th Anniversary Development Secrets, Awakening and Fates.
Development
Overview
All the information on this title is from The Making of Fire Emblem – 25th Anniversary Development Secrets, Awakening and Fates, with the bulk coming from an interview with Tohru Narihiro.
As mentioned, this game began its development some time after Radiant Dawn's release and before Shadow Dragon's. The game's initial development goal was to experiment with gameplay, so that the Fire Emblem series might have better sales after Path of Radiance's and Radiant Dawn's lackluster sales.[1] This change in development mindset came after a staff reset for those working on the Fire Emblem series.[2]
Gameplay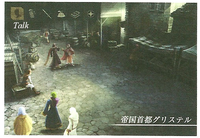 Tohru Narihiro goes on to compare the title's gameplay to the Pikmin series, where the player controls a large amount of individuals at once. Narihiro then states the project ended up cancelled due to a lack of direction and idea of what they actually wanted to do with the game.[3]
The book specifies two 'modes' of gameplay, one called the 'field', where the player characters had free roam, and would be able to encounter enemy 'icons' (enemies appearing in the overworld, and triggering a battle when touched) as well as talk to NPCs.[4]
Planned environments were roads, towns, buildings and caves.[5]
Design direction
Judging by the screenshots included in The Making of Fire Emblem, the game made plentiful reuse of Radiant Dawn assets, in particular the 3D models; characters using models of Stefan, Rhys, and Ilyana can be seen in several screenshots.
The game was planned to take place in a fairly traditional European-medieval setting, featuring "trees that towered over their surroundings" and "buildings that resembled the style of Southern European architecture that lined with the sea".[6]
Gallery
Screenshots
Concept images
External links
Kantopia [1][2], translations of the Fire Emblem Wii documents from The Making of Fire Emblem – 25th Anniversary Development Secrets, Awakening and Fates.
References