Site News
Warning: This wiki contains spoilers. Read at your own risk!


Discord and Twitter: If you would like, please join our Discord server, and/or follow us on Twitter at @FEWikiOfficial!

Cross-Wiki Week 2022: From September 23–30, make contributions to NIWA wikis that you normally don't edit, or Halopedia, for a chance to win a Nintendo eShop gift card! See here for more details.
Fire Emblem The Best Vol. 1
From Fire Emblem Wiki, your source on Fire Emblem information. By fans, for fans.
Fire Emblem The Best Vol. 1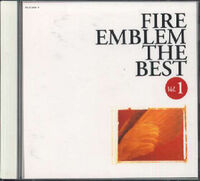 | | |
| --- | --- |
| Game(s) represented | |
| Catalog code | PSCN-5058~9[1] |
| Publisher | NTT Publishing[1] |
| Format | CD |
| Price | ¥2,600[2] |
| Composer(s) | |
| Release date | April 25, 1997[1] |
Fire Emblem The Best Vol. 1 is a Fire Emblem series music album released in 1997. It contains most of the soundtracks of Fire Emblem: Shadow Dragon & the Blade of Light and Gaiden in their original 8-bit states, presented on two discs, one for each game. The album also included a booklet with character art, some of the story, and some gameplay information.
Tracks
Disc 1
Track name
Duration
1

オープニング タイトル~デモ


Opening: Title ~ Demo
2:35
2

ストーリー2 各マップの始まり


Story 2: The Beginning of Each Map
2:14
3

戦闘マップ2 CP側の攻撃


Battle Map 2: CP Side's Attack
2:07
4

戦闘マップ1 プレイヤー側の攻撃


Battle Map 1: Player Side's Attack
2:19
5

ストーリー1 村


Story 1: Village
2:07
6

ストーリー5 出会い


Story 5: Meeting
1:44
7

店1 武器の店、預かり所、村


Shop 1: Armory, Storage Room, Village
1:28
8

戦い2 CP側の攻撃


Battle 2: CP Side's Attack
2:12
9

戦い1 プレイヤー側の攻撃


Battle 1: Player Side's Attack
1:16
10

味方 倒れる


Ally Falls
0:04
11

ライブの杖使用時


When Using a Live Staff
0:09
12

戦闘マップ3 勝利近し(プレイヤー側)


Battle Map 3: Near Victory (Player Side)
1:57
13

戦い3 中ボスとの戦い


Battle 3: Battle with Mid-Boss
1:33
14

ストーリー4 各マップの勝利


Story 4: Victory of Each Map
2:16
15

勝利のうた


Victory Song
2:24
16

店3 闘技場


Shop 3: Arena
0:53
17

ゲームオーバー


Game Over
0:11
18

ストーリー3 会話


Story 3: Conversation
2:13
19

店2 魔導の館


Shop 2: Magic House
1:43
20

ユニットチェンジ


Unit Change
0:09
21

戦闘マップ4 最終マップ(プレイヤー側)


Battle Map 4: Final Map (Player Side)
2:18
22

戦闘マップ5 最終マップ(CP側)


Battle Map 5: Final Map (CP Side)
2:34
23

戦い4 メディウスとの戦い


Battle 4: Battle with Mediuth
2:10
24

ストーリー6 マルスとシーダの会話


Story 6: Marth and Sheeda's Conversation
2:07
25

エンディング(オムニバス)


Ending (Omnibus)
4:56
26

エンディング(バラード)


Ending (Ballade)
3:25
Total length
49:10
Disc 2
Track name
Duration
1

オープニング


Opening
1:40
2

全体マップ 1章(ソフィアへ:アルムの旅立ち)


Entire Map: Chapter 1 (

To Sofia

: Alm's Departure)
2:00
3

ストーリー5 村


Story 5: Village
2:30
4

戦闘マップ1 戦闘MAP 1_1(アルム1)


Battle Map 1: Battle Map 1-1 (Alm 1)
2:08
5

全体マップ 2章(セリカの旅立ち)


Entire Map: Chapter 2 (

Celica's Departure

)
3:02
6

戦闘マップ3 戦闘MAP 2_1(セリカ1)


Battle Map 3: Battle Map 2-1 (Celica 1)
2:08
7

戦闘マップ6 戦闘MAP BGM1(CP側)


Battle Map 6: Battle Map BGM 1 (CP Side)
2:25
8

戦い1(プレイヤー側)


Battle 1 (Player Side)
2:05
9

ファンファーレ3(戦闘開始)


Fanfare 3 (Battle Start)
0:04
10

戦い2(CP側)


Battle 2 (CP Side)
2:18
11

戦闘マップ7 戦闘MAP BGM2(CP側)


Battle Map 7: Battle Map BGM 2 (CP Side)
1:37
12

出逢い


Meeting
2:14
13

全体マップ 3章(解放戦争:それぞれの道)


Entire Map: Chapter 3 (

Liberation War

: Each Path)
2:02
14

戦闘マップ4 戦闘MAP 2_2(セリカ2)


Battle Map 4: Battle Map 2-2 (Celica 2)
1:57
15

ファンファーレ2(仲間入り)


Fanfare 2 (Joining)
0:04
16

ストーリー3 寺院・神殿


Story 3:

Temple - Temple

1:28
17

全体マップ 4章(悲しみの大地)


Entire Map: Chapter 4 (Land of Sorrow)
2:26
18

ストーリー4 塔


Story 4: Tower
1:27
19

戦い3(中ボス)


Battle 3 (Mid-Boss)
1:28
20

ファンファーレ1(レベルアップ)


Fanfare 1 (Level Up)
0:04
21

味方 倒れる


Ally Falls
0:04
22

ライブの杖使用時


When Using a Live Staff
0:23
23

ゲームオーバー


Game Over
0:22
24

ストーリー1 復活の森


Story 1: Forest of Revival
1:16
25

全体マップ 5章(再会、そして)


Entire Map: Chapter 5 (

Reunion, and Then

)
2:09
26

ストーリー2 地下・通路


Story 2: Underground - Passage
3:25
27

戦闘マップ2 戦闘MAP 1_2(アルム2)


Battle Map 2: Battle Map 1-2 (Alm 2)
1:57
28

戦い5(最終面・味方の攻撃)


Battle 5 (Final Page - Ally's Attack)
3:25
29

戦闘マップ5 最終MAP BGM(プレイヤー側)


Battle Map 5: Final Map BGM (Player Side)
2:37
30

戦闘マップ8 最終MAP BGM(プレイヤー側)


Battle Map 8: Final Map BGM (CP Side)
2:15
31

戦い4(最終ボス)


Battle 4 (Final Boss)
1:59
32

城(マーチ)


Castle (March)
2:43
33

エンディング1


Ending 1
2:41
34

エンディング2


Ending 2
0:09
Total length
59:23
Trivia
Gallery
References