Site News
Warning: This wiki contains spoilers. Read at your own risk!


Discord and Twitter: If you would like, please join our Discord server, and/or follow us on Twitter at @FEWikiOfficial!

Cross-Wiki Week 2022: From September 23–30, make contributions to NIWA wikis that you normally don't edit, or Halopedia, for a chance to win a Nintendo eShop gift card! See here for more details.
Fire Emblem -G.S.M. Nintendo 3-
From Fire Emblem Wiki, your source on Fire Emblem information. By fans, for fans.
Fire Emblem -G.S.M. Nintendo 3-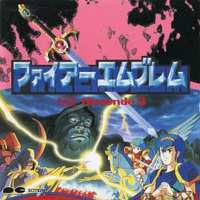 Game(s) represented
Catalog code

PCCB-00029 (CD print)
PCTB-00007 (Cassette tape print)[1]

Publisher

Pony Canyon (Scitron)[2]

Format

CD

Price

¥2500[2]

Composer(s)
Arranger(s)

Kei Takanashi, Max Alex, Masaki Tsurugi, Shinya Narita[2]

Release date

May 21st, 1990[2]
Fire Emblem -G.S.M. Nintendo 3- (Japanese: ファイアーエムブレム-G.S.M. NINTENDO 3- Fire Emblem -G.S.M. Nintendo 3-) is a Fire Emblem series music album released in 1990. The third and final installment in the G.S.M. Nintendo soundtrack series in Japan, it contains a set of arrangements of the soundtrack of Fire Emblem: Shadow Dragon & the Blade of Light. The album was simultaneously published in two editions: a Compact Disc and a cassette tape.
Tracks
Track name
Duration
Description
1

遙かなるアリティア (オープニング)


Faraway Altea (Opening)
4:23
A strings-heavy orchestral arrangement of the game's opening and Fire Emblem Theme.
2

マルスの決意 (各マップの始まり)


Marth's Determination (Each Map's Beginning)
2:39
An organ rendition of the theme played before each chapter begins (later called "Trouble!" in

Shadow Dragon

).
3

戦線布告!! (マップBGM2)


Declaration of War!! (Map BGM 2)
4:50
A slow piano ballad version of the game's Player Phase map theme.
4

反撃!! (マップBGM1~戦い2)


Strike Back!! (Map BGM 1 ~ Attack 2)
4:33
A synthesizer-heavy arrangement of the Enemy Phase map theme and the basic enemy battle theme.
5

決死の突撃 (マップBGM3~戦い3~戦い1)


Determined Assault (Map BGM 3 ~ Battle 3 ~ Battle 1)
5:01
A rock arrangment of the near-victory map theme, the normal boss battle theme and the player battle theme.
6

解放〜ウイニング・マーチ <歓喜> (勝利~勝利の歌)


Liberation ~ Winning March <Delight> (Victory ~ Song of Victory)
2:31
A marching band rendition of the end-of-chapter theme (later called "Paean" in

Shadow Dragon

).
7

選ばれし者たち (最終マップBGM・プレイヤー側)


The Chosen Ones (Final Map BGM Player Phase)
5:34
A metal rendition of the player-phase map theme for the final chapter, Chosen by Fate.
8

恐怖のしもべたち (最終マップ・コンピュータ側)


Servants of Fear (Final Map BGM Enemy Phase)
3:10
A harpschicord rendition of the enemy-phase map theme for the final chapter, Chosen by Fate.
9

メディウス <猛り狂うドラゴン> (戦い4)


Medeus <The Rampaging Dragon> (Battle 4)
3:04
A version of Medeus's battle theme.
10

英雄ロードマルス (勝利の会話)


Hero Lord Marth (Victory Conversation)
2:35
A quiet, slow pipe version of the Fire Emblem Theme, as per the game's ending scene with Marth and Caeda.
11

人々の祈り (エンディング)


Prayers of the People
4:08
A snippet of the first track, as per the game's ending.
12

エンディング・オムニバス編 <オリジナルバージョン>


Ending: Omnibus Arrangement <Original Version>
6:51
The credits medley, in its original 8-bit state straight from the game.
Total length
49:06
References