Site News
Warning: This wiki contains spoilers. Read at your own risk!


Social media: If you would like, please join our Discord server, and/or follow us on Twitter or Tumblr!
Field of Revenge/Combat at Tailtean Plains
From Fire Emblem Wiki, your source on Fire Emblem information. By fans, for fans.
Combat at Tailtean Plains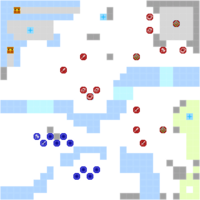 Combat at Tailtean Plains (Japanese: タルティーン平原の戦い Battle of the Tailteann Plains) is the battle map of the seventeenth chapter of the Crimson Flower route in Fire Emblem: Three Houses. In this map, the remaining Faerghus and Church of Seiros armies ride out to face the Black Eagle Strike Force on a historic battlefield during a rainstorm.
Beginning log
The Black Eagle Strike Force, in its continued pursuit of Fódlan's unification, marches on Fhirdiad. Kingdom and church forces prepare to meet you at Tailtean Plains, a place laden with history.
Map data
Character data
Characters
New Units
Returning Characters
Item data
Name
Obtainment Method
Kadmos Shield
Dropped by enemy Fortress Knight (reinforcement)
Giant Shell
Dropped by enemy Gremory (reinforcement)
Brave Bow
Open northern chest
Brave Axe
Open southern chest
Vulnerary
Steal from Dedue
Vulnerary
Steal from Sylvain

*

Vulnerary
Steal from Dimitri
Vulnerary
Steal from Mercedes

*

(reinforcement)
Enemy data
Reinforcements
Boss data
Main article: Dimitri
Main article: Dedue

Dedue
Stone Demonic Beast
Main article: Rhea