Site News
Warning: This wiki contains spoilers. Read at your own risk!


Discord and Twitter: If you would like, please join our Discord server, and/or follow us on Twitter at @FEWikiOfficial!
Fódlan's New Dawn/For the Freedom of Fódlan
From Fire Emblem Wiki, your source on Fire Emblem information. By fans, for fans.
For the Freedom of Fódlan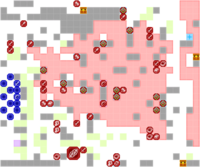 | | |
| --- | --- |
| Location | Caledonian Plateau |
| Boss(es) | Nemesis, Charon, Goneril, Daphnel, Blaiddyd, Gautier, Gloucester, Riegan, Fraldarius, Dominic, Lamine |
| Previous chapter(s) | |
For the Freedom of Fódlan (Japanese: フォドラ解放戦 Battle for the Liberation of Fódlan) is the main battle map of the twenty-second and final chapter of the Verdant Wind route in Fire Emblem: Three Houses. In this map, Byleth engages the resurrected Liberation King Nemesis and his army in a climactic final battle.
Beginning log
Shambhala has fallen, but a mysterious army has emerged from its ruins, bearing the Crest of Flames on its banner. Leading this force is Nemesis, the King of Liberation, presumed dead for a thousand years.
Map data
Character data
Characters
New Units
Returning Characters
Item data
Enemy data
Name
Class
Lv
#
HP
Str
Mag
Dex
Spd
Lck
Def
Res
Cha
Con
Mov
Inventory and Skills
Winged Demonic Beast
Flying Demonic Beast
42
∞
34
34
50
23
5
18
25
0
7
11
0
5

Pointy Artificial Crest Stone




Renewal

•

Barrier

•

Vital Defense

•

Giant Wings

•

Desperation

•

Darting Blow




Flame Breath

Weak to Lances.
Reinforcements
Every third turn, starting two turns after the War Master adjacent to Odesse is provoked; halted if Odesse is defeated
Boss data
Main boss
Main article: Nemesis
Skill Levels

| | | | | | | | | | | | |
| --- | --- | --- | --- | --- | --- | --- | --- | --- | --- | --- | --- |
| | | | | | | | | | | | |
| A | C | C | D | B+ | D | E | A | E | E | E | |
Sub-bosses
Main articles: Charon, Goneril, Daphnel, Blaiddyd, Gautier, Gloucester, Riegan, Fraldarius, Dominic, and Lamine
Due to technical limitations, The 10 Elites' stats have been split onto separate pages.
Main article: Odesse
Skill Levels

| | | | | | | | | | | | |
| --- | --- | --- | --- | --- | --- | --- | --- | --- | --- | --- | --- |
| | | | | | | | | | | | |
| E | E | E | E | E | A | E | E | E | E | E | |
Strategy
This section details unofficial strategies that may help with completion of the chapter. This may not work for everybody.
This is it, your final battle. If you've been saving anything like stat boosters or relic weapons for a rainy day, it's time to take out your umbrella. Nemesis gets insane stat boosts for each of the resurrected 10 Elites still standing, so your primary objective is to kill every last one of them.
The Ten Elites (and the generics)
Immediately start knocking down the enemies closest to your position. Claude should have no trouble taking out Blaiddyd on turn 1. After the west side of the map is secure, split up and start making your way across the north and south edges, killing anyone who gets in your way. The chests are nice to have if you want, but not really necessary. Send some fliers across the swamp to take out the Elites down that way. Don't worry too much about the swamp; that random guy must have been allergic to something, because it only takes 10% of your HP every turn. Goneril is the next Elite to step up to the plate. He will probably kill anyone he faces in a single strike, if he can actually hit them. Put a fast swordsman on the stronghold Blaiddyd once occupied and run right over him. Other high-priority targets in the center include Gloucester (who likes to spam Physic), the two ballistae and on Maddening, the Gremory with Bohr Χ. Up on the north side, Lamine is very dangerous to approach due to her Bolting; send a reasonably bulky mounted unit to dart in and kill her before she becomes too much of a pain or make use of Retribution or the Chalice of Beginnings to kill her on retaliation from a distance. Watch out for her Dark Rafail Gem, which can halve any damage she takes. Once she is dead, the swamp vanishes, making your life a little easier. On the south side, the only real notable enemies are the Demonic Beast and Odesse. Try to deal with Odesse before he summons more Demonic Beasts. Maintain a controlled pace as you make your way towards Nemesis. Once you kill all 10 Elites, gather everyone and move towards Nemesis, but do not provoke him until you are ready to fight.
Nemesis
Nemesis has both a Gambit and a powerful Combat Art in Heaven's Fall, both of which become huge threats if you let him run around with them, so plan to kill him in one turn so he doesn't get that chance. Nemesis hits hard and also has a significant chance to have crit chances against your units, so the pool of people that can fight him are limited. The safest people who can fight him down are Claude if he "pre-loads" Fallen Star by using it on some other enemy and then not using up the status buff by staying out of combat, Yuri or Byleth with Windsweep to not get countered, anyone who can hurt Nemesis with a Gambit for the same reasoning, and Lysithea with Luna Λ if she can finish Nemesis off in one hit. Handing anyone not actively engaged in fighting Nemesis a bow is recommended, since it extends their attack range to allow them to provide support bonuses to the units that are fighting Nemesis. Once Nemesis's HP gets low enough, Lysithea should be able to finish him off with Luna Λ.
Fighting Nemesis without killing the Ten Elites
This is usually not recommended, but that does not mean that it is impossible. Nemesis gets +3 Str/Mag/Dex/Spd/Lck/Def/Res/Cha for each Elite present as well as a 1-use barrier that negates damage once per turn (that will not be "wasted" on attacks that deal 0 damage) if at least one Elite is alive to deter you from doing this. Attempting this generally means plenty of pre-planning and unit training has to occur throughout the playthrough, and usually involves maximizing damage output and survivability on a single unit. You will need someone to deactivate that barrier, either safely through a Gambit or Windsweep or by sacrificing someone who can otherwise hurt Nemesis if they were not using one. Then, your hypermaxed Nemesis-killer will have to try to kill him in that turn—Combat Arts and crit-fishing may be needed due to Nemesis' high Lck and CrtAvo. Dance with dancer/Dance of the Goddess as needed and pray that Nemesis goes down to a crit. Alternatively, try to get Lysithea to 107 damage with Luna Λ through things like Dark Tomefaire, Fiendish Blow, Rally Magic etc. so she can destroy Nemesis in one hit regardless of difficulty (as Nemesis has 107 HP on all difficulties) without bothering with Nemesis' extreme Res stat. It is worth noting that out-of-combat damage, such as from Poison Strike, is not nullified by the barrier; this can be useful to reach the final killing blow, provided that users of such skills can survive a round of combat from Nemesis as well, such as through Gambits, Windsweep, or by commandeering the artillery in the middle of the map.
Trivia
Due to an oversight, it is only possible to see Odesse's death quote with combat animations turned off.
Etymology and other languages
Names, etymology and in other regions
Language
Name
Definition, etymology and notes
English

Fódlan's New Dawn

--

Japanese

フォドラ解放戦

Battle for the Liberation of Fódlan

Spanish

La liberación de Fódlan

The liberation of Fódlan

French

Pour libérer Fódlan

To liberate Fódlan

German

Befreiungskampf um Fódlan

Struggle to Liberate Fódlan

Italian

Per un Fódlan libero

For a free Fódlan

Korean

포드라 해방전

The liberation of fódlan

Simplified Chinese

芙朵拉解放战

Battle to liberate fódlan

Traditional Chinese

芙朵拉解放戰

Battle to liberate fódlan
Gallery
---
This section has been marked as a stub. Please help improve the page by adding information.
---
References
Fire Emblem: Three Houses
Playable characters

Black Eagles

Bernadetta • Caspar • Dorothea • Edelgard • Ferdinand • Hubert • Linhardt • Petra

Blue Lions

Annette • Ashe • Dedue • Dimitri • Felix • Ingrid • Mercedes • Sylvain

Golden Deer

Claude • Hilda • Ignatz • Leonie • Lorenz • Lysithea • Marianne • Raphael
Other
Alois • AnnaDLC • Byleth • Catherine • Cyril • Flayn • Gilbert • Hanneman • JeritzaDLC • Manuela • Seteth • Shamir

Ashen Wolves

DLC
Balthus • Constance • Hapi • Yuri
Non-playable characters
AbysskeeperDLC • Duke Aegir • Lord Arundel • Count Bergliez • Count Hevring • Count Gloucester • Count Varley • Fleche • Gatekeeper • Duke Gerth • Glenn • Holst • Ionius IX • Jeralt • Judith • Ladislava • Lambert • Margrave Gautier • Monica • Nader • Patricia • Randolph • Rhea • Rodrigue • Rufus • Seiros • Sitri • Sothis • Tomas • Tiana
Bosses
Acheron • AelfricDLC • Alois • Lord Arundel • Bias • Blaiddyd • Caspar • Catherine • Charon • Chilon • Claude • Cornelia • Daphnel • Dedue • Death Knight • Dimitri • Dominic • Baron Dominic • Edelgard • Felix • Ferdinand • Flame Emperor • Flayn • Fraldarius • Gautier • Gloucester • Goneril • Gwendal • Hubert • Ingrid • The Immaculate One • The Immovable • Judith • Kostas • Kronya • Ladislava • Lamine • Linhardt • Lonato • Lorenz • Mercedes • Metodey • Miklan • Myson • Nader • Nemesis • Baron OchsDLC • Odesse • Pallardó • Pittacus • Randolph • Rhea • Riegan • Rodrigue • Seteth • Shamir • Solon • Sylvain • Thales • Wandering Beast • The Wind Caller
Personal weapons and regalia
Aegis Shield • Areadbhar • Asclepius • Athame • Axe of Ukonvasara • Aymr • Blutgang • Caduceus Staff • Circe Staff • Crusher • Failnaught • Fetters of Dromi • Freikugel • The Inexhaustible • Lance of Ruin • Lúin • Ochain Shield • Rafail Gem • Scythe of Sariel • Seiros Shield • Spear of Assal • Sword of Begalta • Sword of Moralta • Sword of Seiros • Sword of the Creator • Tathlum Bow • Thunderbrand • Thyrsus • Vajra-Mushti
Chapters
Part I

Prologue: An Inevitable Encounter • 1: Three Houses • 2: Familiar Scenery • 3: Mutiny in the Mist • 4: The Goddess's Rite of Rebirth • 5: Tower of Black Winds • 6: Rumors of a Reaper • 7: Field of the Eagle and Lion • 8: The Flame in the Darkness • 9: The Cause of Sorrow • 10: Where the Goddess Dwells • 11: Throne of Knowledge • 12: To War / Outset of a Power Struggle
Part II
Silver Snow

13: Reunion at Dawn • 14: A King Without a Kingdom • 15: Valley of Torment • 16: The Rose-Colored River • 17: The Impregnable Fortress • 18: The Chaos of War • 19: Conclusion of the Crossing Roads • 20: The City Without Light • 21: Following a Dream
Azure Moon

13: Reunion at Dawn • 14: The Delusional Prince • 15: Valley of Torment • 16: The Rose-Colored River • 17: Blood of the Eagle and Lion • 18: The King's Triumphant Return • 19: The Golden Deer's Plea • 20: The Impregnable Fortress • 21: Our Chosen Paths • 22: Oath of the Dagger
Verdant Wind

13: Reunion at Dawn • 14: The Alliance Leader's Ambitions • 15: Valley of Torment • 16: The Rose-Colored River • 17: Blood of the Eagle and Lion • 18: The Golden Scheme • 19: The Chaos of War • 20: Conclusion of the Crossing Roads • 21: The City Without Light • 22: Fódlan's New Dawn
Crimson Flower

13: Beyond Escape • 14: The Master Tactician • 15: Tempest of Swords and Shields • 16: Lady of Deceit • 17: Field of Revenge • 18: To the End of a Dream
Paralogues
Part I
Black Market SchemeDLC • A Cursed RelicDLC • Death Toll • Dividing the World • Falling Short of Heaven • The Forgotten • Land of the Golden Deer • An Ocean View • Oil and Water • Rumored Nuptials • The Secret MerchantDLC • Sword and Shield of Seiros • Tales of the Red Canyon • True Chivalry • War for the Weak
Part II
Darkness Beneath the Earth • Dividing the World • Eternal Guardian • The Face Beneath • Foreign Land and Sky • Forgotten Hero • Insurmountable • Legend of the Lake • Retribution • The Secret MerchantDLC • The Silver Maiden • The Sleeping Sand Legend • Weathervanes of Fódlan
Cindered Shadows
(DLC side story)

1: The Fourth House • 2: What Lies Beneath • 3: The Rite of Rising • 4: Danger in the Dark • 5: Betrayal • 6: Return to Me • 7: Wolf Pack
Locations
Fódlan • Adrestia • Faerghus • Garreg Mach Monastery (Abyss) • Leicester • Almyra • Brigid • Dagda • Sreng • Zahras
Groups, objects and concepts
10 Elites • Ashen Wolves • Black Eagles • Blue Lions • Children of the Goddess • Church of Seiros (Knights of Seiros) • Crests (Crest Stone) • Divine Pulse • Golden Deer • Heroes' Relics • Insurrection of the Seven • Monsters • Those who slither in the dark • Tragedy of Duscur • War of Heroes
Related topics
Music Library • Name chart • Other games (

Warriors: Three Hopes

) • Pre-release information • Unused content • Downloadable content • List of quests • Class mastery