Site News
Warning: This wiki contains spoilers. Read at your own risk!


Social media: If you would like, please join our Discord server, and/or follow us on Twitter or Tumblr!

Engage info: As the game has only recently released, we lack much key information. Please help add any info that you can.
Dark (magic)
From Fire Emblem Wiki, your source on Fire Emblem information. By fans, for fans.
Not to be confused with black magic.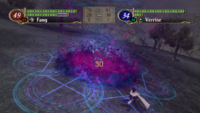 | | | | |
| --- | --- | --- | --- |
| " | Heh. Dark magic is often misunderstood. It can reflect your darkest thoughts, but it also reflects the good ones... | " | — Tharja |
Dark magic (Japanese: 闇 darkness), also known as "elder magic" (Japanese: 古代魔法 ancient-era magic),[1] is a magical weapon type in the Fire Emblem series, first introduced in Genealogy of the Holy War as one of five magic types. Like axes, dark magic in general possesses the highest might of the magic types, offset by being the heaviest and least accurate. Additionally, dark tomes are frequently distinguished from other magic types by possessing additional, unusual effects alongside just dealing damage.
The place of dark magic in the Trinity of Magic depends on the game. In its original appearances in Genealogy of the Holy War and Thracia 776, it and light magic are separate from the Trinity comprised by the three anima types and overpower all three. In the Trinity of the Game Boy Advance trilogy and Radiant Dawn, dark is at a disadvantage against light, while at an advantage against all types of anima.
Overview
In Fire Emblem: Shadow Dragon & the Blade of Light, Mystery of the Emblem, Shadow Dragon, and New Mystery of the Emblem, there is no separate dark magic, with the broader tome weapon type covering magic which would theoretically be dark had it existed in a game with it split, such as Imhullu and Glower. There is no dark magic of any description in Path of Radiance. In Awakening and Fates, dark magic does not exist as a separate weapon type, and instead are a subcategory of tome; dark tomes in these games are only usable by Dark Mages, Sorcerers, and units with the Shadowgift skill. In Three Houses, dark magic is similarly a subcategory of black magic; in this game, dark magic spells are denoted by a Greek letter at the end of their names.
In-universe role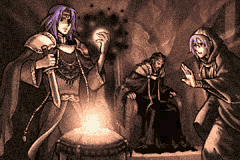 | | | | |
| --- | --- | --- | --- |
| " | We have only the barest understanding of how dark magic operates. Maybe we can use it not only to heal wounds, but also to stop diseases... What if we can read the future, predict disasters, move mountains!? | " | — Lyon |
In the context of the worlds of Fire Emblem, the position and reputation of dark magic is complex and varied. It is generally depicted at face value as an obscure, ancient and intricate discipline, with very few playable units having access to it, and it frequently has ties to evil powers. For instance, the Loptrian cultists of Jugdral are almost all Dark Mages, the final bosses Gharnef, Julius, Veld, Nergal and Lyon are all wielders of dark magic, and the latter two were explicitly driven to evil as a result of their powers. Often, unusual or outright sinister powers stem from mastery of dark magic, such as the obscure "time shear" spell which grants its masters the ability to see the future,[2] and the ability to create undead monsters. Unsurprisingly, dark magic is portrayed as holding a widespread reputation for being "evil" in and of itself as a result of all of this;[3] it appears that similarly, "dark magic" as the art's common name is, at least in Elibe, a pejorative term for it which stems from this association with evil power.[1]
In Elibe, Magvel, and Tellius at least, the root of dark magic is knowledge. According to Knoll, those who practice dark magic seek knowledge and understanding, and seek to expand their knowledge of the world to know the unknown and unknowable; this is a stark contrast to light magic, which takes its power from divine faith.[4] This is supported by most users of dark magic in this era being scholars. Canas describes the use of dark magic as requiring one to invite the dark power into oneself, which comes at a grave risk as there is a constant temptation to surrender oneself completely to the darkness, and one who cannot resist it loses their soul; this fate befell Canas's three brothers.[5] Teodor's description of the use of dark magic is even more extreme, suggesting that complete mastery of dark magic requires sacrificing one's self entirely to become a vessel for the darkness and to maintain a strong enough will to tame the darkness to one's ends; Bramimond of the Eight Legends is, according to Teodor, one of very few people to have achieved this without losing oneself. His description also suggests that Nergal is a failed attempt at this.[6]
The experiments of the dark mages of Grado under Lyon's leadership, and the stigma and untapped powers of dark magic, are key plot points of Fire Emblem: The Sacred Stones. Lyon, a student of dark magic, initially sought to overcome the sinister stereotype of dark magic by putting it to use to actively help the people of Grado.[3] Lyon's belief that there was still much to be learned about dark magic, and that it could be used to heal people and save lives by averting disaster and eradicating disease, led him and his dark mages to begin their study of the Sacred Stone of Grado and the powers radiating from it.[7] He rediscovered a lost ancient "time shear" spell which allowed him to witness a devastating earthquake in Grado's future, and intended to use this knowledge to save the people from it,[2] but eventually after his father Vigarde's death from illness Lyon was driven to madness and fell under the influence of Fomortiis, leading to the game's events.
Awakening and Fates's depiction of dark magic varies drastically from the portrayal of the GBA-Tellius era; dark magic is instead characterized as hexes and curses, often explicitly evil magic which inflicts a variety of forms of harm on their victims.
Classes capable of using dark magic
Etymology and other languages
Names, etymology and in other regions
Language
Name
Definition, etymology, and notes
English

Dark

--

Japanese

闇

Darkness; in the Jugdral games, it is referred to as 暗黒魔道 or 暗黒魔法 in dialogue.

Spanish

Oscura

Dark

French

• Noire
• Nuit
• Obscure

• Black. Used in the GBA titles.
• Night. Used in Radiant Dawn.
• Dark. Used in Three Houses.

German

Dunkle

Dark

Italian

• Nera
• Oscura

• Black. Used in other games.
• Dark. Used in Three Houses.

Korean

암흑

Dark

Simplified Chinese

暗

Dark

Traditional Chinese

闇

Dark
Gallery
References
See also