Site News
Warning: This wiki contains spoilers. Read at your own risk!


Social media: If you would like, please join our Discord server, and/or follow us on Twitter or Tumblr!

Engage info: As the game has only recently released, we lack much key information. Please help add any info that you can.
Carcino
From Fire Emblem Wiki, your source on Fire Emblem information. By fans, for fans.
Carcino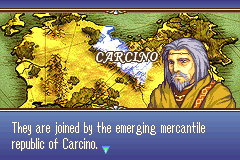 | | |
| --- | --- |
| Capital | Unknown |
| Government | Mercantile republic |
| Continent | |
Carcino (Japanese: カルチノ Carcino) is a country in Fire Emblem: The Sacred Stones. It is located in the north-center of Magvel. Carcino borders Frelia to the west, Renais to the south, Rausten and Darkling Woods to the east. To the north is nothing but the ocean. The remote village Caer Pelyn is located within its borders.
History
Being a much younger country, Carcino does not possess a Sacred Stone. Carcino also does not have a ruling house, instead being run by a merchant council.
During the War of the Stones Carcino's council split on the matter of siding with Grado or Renais and Frelia. Much of Carcino eventually betrays Frelia and Renais in an attempt to gain the favor of Grado, however, this was not willed by all of Carcino's leaders, as the betrayal was forced by Pablo and not approved by the rest of the council. Pablo forced his way by either bribing or killing the other members, with Klimt being one of the survivors. After Pablo's death Carcino backs out of the war, though and repercussions for the council's actions after the war are not mentioned.
Notable locations in Carcino
Caer Pelyn
Main article: Caer Pelyn
While Caer Pelyn presumably does not interact with Carcino's government processes, it is located within the borders of Carcino. Caer Pelyn is an old and remote village that abolished social ranks in favor of living in the mountains in a self-sustainable lifestyle.
Port Kiris
A bustling port town in western Carcino.
Teraz Plateau
A mountainous area located south of Port Kiris. A building in this area was the hiding place of councilman Klimt during the War of the Stones.
Characters from Carcino
Etymology and other languages
Names, etymology and in other regions
Language
Name
Definition, etymology, and notes
English

Carcino

Carcino is the Italian word for Carcinus, a genus of crab.

Japanese

カルチノ

Officially romanized as Carcino.

Spanish

Carcino

--

French

Carcino

--

German

Carcino

--

Italian

Carcino

--

Portuguese

Carcino

Used in Heroes as an option for the player's location in their profile card.

Korean

카르치노

Carcino; used in Fates and Echoes: Shadows of Valentia, among the choices for the player's country in their profile card.

Traditional Chinese

卡爾奇諾

Carcino; used in Heroes as an option for the player's location in their profile card.
Gallery
References