Site News
Warning: This wiki contains spoilers. Read at your own risk!


Social media: If you would like, please join our Discord server, and/or follow us on Twitter or Tumblr!

Engage info: As the game has only recently released, we lack much key information. Please help add any info that you can.
Axe Armor
From Fire Emblem Wiki, your source on Fire Emblem information. By fans, for fans.
Axe Armor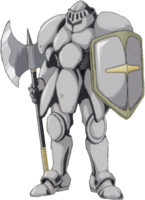 Artwork of the Axe Armor from the Fire Emblem Trading Card Game.
---
Heavily armored knights who dominate battlefields with their powerful axes.
| | |
| --- | --- |
| Unit type(s) | Armored |
| Weapon(s) | |
| Skill(s) | |
The Axe Armor or Armored Axe (Japanese: アクスアーマー Axe Armor) is a basic armored class debuting in Fire Emblem: Genealogy of the Holy War. It is one of four weapon-specific variations of the Knight, specializing in the use of axes, and appears only in Genealogy of the Holy War, Thracia 776, Radiant Dawn, and Engage. It is statistically near-identical to its counterparts, the Sword Armor, Lance Armor and Bow Armor.
It is a playable class only in Thracia 776 and Engage, wherein it promotes to General; while not playable in Radiant Dawn without hacking, the axe-specific Axe General would be its hypothetical class-changed form and does have a playable member. Through use of hacking devices, it can be seen that Armored Axes do indeed promote to Axe General in Radiant Dawn.
Stats
Base stats
Max stats
Class growth rates
See
class growth rate
for more details on the mechanics of class growths in each game.
Class skills
Class change
Genealogy of the Holy War
Thracia 776
Base class
Promotion method
Advanced class

Axe Armor
Using a

Knight Proof

after reaching Level 10.

General
Radiant Dawn
Note: Armored Lances and Armored Axes only appear as enemy units, and while they do have the ability to promote programmed in, it does not happen in an unmodified game.
Playable Axe Armors
Notable enemy Axe Armors
Flavor text
Game
Text
(English)
Text
(Japanese)

Radiant Dawn


(class roll)
Heavily armored knights who wield
axes. Some may wield swords or
lances instead.
分厚い鎧に身を固めた兵士
斧を専門に扱って戦う
他に剣重装兵・槍重装兵がいる

Radiant Dawn


(help)
Heavily armored knights who
dominate battlefields with their
powerful axes.
分厚い鎧に身を固めた兵士
斧を専門に扱って戦う
他に剣重装兵・槍重装兵がいる

Engage

Heavily armored axe-wielders clad
in tough armor. They have high
defense, but magic is their bane.
堅い鎧に守られた重装の斧歩兵。
守備は高いが、魔法に弱い。
Trivia
In Fire Emblem Heroes, generic axe-wielding armored units are known as Axe Armors in the Japanese version, but the English version translated it as Axe Knight rather than Axe Armor.
Etymology and other languages
Names, etymology and in other regions
Language
Name
Definition, etymology, and notes
English

• Armored Axe
• Axe Armor

• Used in Radiant Dawn. In gameplay, for space restrictions the name is shortened to "Armor Axe".
• Used in Engage.

English
(unofficial)

Axe Armor

Used in the relevant fan translations, excluding the "Project Naga" patch of Genealogy of the Holy War.

Japanese

• アクスアーマー
• 斧重装兵

• Axe Armor; this name is used in all appearances except Radiant Dawn.
• Officially romanized as Axe Armor; literally "axe heavily-equipped soldier". In Radiant Dawn, all Japanese class names are spelled primarily in kanji (i.e. 槍重装兵), with a foreign-language name in katakana applied as furigana (i.e. アクスアーマー) and used as the basis for the romanized name in the class roll.

Spanish

Hacha acorazado

Armored axe

French

Chevalier hache

Axe knight. Abbreviated to Chev. hache in Radiant Dawn due to space restrictions.

German

Axtmeister

Axe master

Italian

Armigero ascia

Axe armiger
Gallery
References
See also
| | |
| --- | --- |
| | This article is part of Project Classes, a project focused in writing articles for every class present in the Fire Emblem series. |