Site News
Warning: This wiki contains spoilers. Read at your own risk!


Discord and Twitter: If you would like, please join our Discord server, and/or follow us on Twitter at @FEWikiOfficial!
Arch Sage
From Fire Emblem Wiki, your source on Fire Emblem information. By fans, for fans.
Arch Sage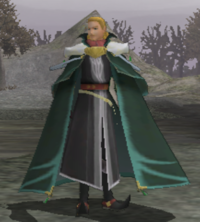 Bastian as an Arch Sage in Radiant Dawn.
---
Scholars of all magics who wield terrible anima spells and staves. They employ the skill Flare.
| | |
| --- | --- |
| Unit type(s) | Infantry |
| Weapon(s) | |
| Skill(s) | |
The Arch Sage or Archsage (Japanese: 大賢者 Arch Sage) is an advanced magical class which debuted in Fire Emblem: The Blazing Blade. Acting as an even more advanced form of the Sage and related classes, Archsages are masters of multiple magical disciplines with high stats. In its original appearance in Fire Emblem, the Archsage is the exclusive class of Athos of the Eight Legends, in his brief playable role in the Final Chapter. In Radiant Dawn, the Arch Sage is the third-tier promoted form of the game's four element-specific Sage variants: the Fire Sage, Thunder Sage, Wind Sage and Dark Sage.
Arch Sages have access to a broad spectrum of magic, typically featuring multiple types of offensive magic with an emphasis on anima magic alongside healing staves. Fire Emblem Archsages wield all four magic categories - anima, light, dark and staves, while the Arch Sages of Radiant Dawn primarily wield all three anima magic types. The Radiant Dawn Arch Sage is technically four separate classes which have minor variations in stat builds and usable weapons; in addition to the three anima-specialist versions, the dark variant exclusive to Pelleas wields only thunder magic, dark magic and staves, and also has higher proficiency in staves than the anima variants.
In all cases, Arch Sages specialize in pure magical offense, as the various Sage classes do. Their magical power, skill and speed all remain high, giving them potent, accurate and quick offensive abilities. However, they share the traditional weak HP and defense of most magical classes, although their resistance is respectable.
Stats
Base stats
Max stats
Game
HP
Strength
Magic
Skill
Speed
Luck
Defense
Resistance
Movement
Constitution
Weapon level

The Blazing Blade

60
--
30
30
25
30
20
30
15
20
S S
S S

Radiant Dawn


(Fire: Tormod, Calill)
50
24
38
34
32
30

25

/

23

36

/

38

??
??
SS S
S A

Radiant Dawn


(Thunder: Ilyana)
45
24
39
34
30
30
24
38
??
??
S SS
S A

Radiant Dawn


(Wind: Soren, Bastian)
50
23
40
34
32
30
24
36
??
??
S S
SS A

Radiant Dawn


(Dark: Pelleas)
50
25
39
34
31
30
24
36
??
??
S SS S
Class growth rates
See
class growth rate
for more details on the mechanics of class growths in each game.
Class skills
Class change
The Blazing Blade
Radiant Dawn
Playable Arch Sages
Flavor text
---
This section has been marked as a stub. Please help improve the page by adding information.
---
Game
Text
(English)
Text
(Japanese)

The Blazing Blade


(class roll)
A title reserved only for those who have
mastered all types of magic and all staves.
あらゆる知識を究めた魔道士の称号
光・理・闇の魔法すべてと 杖を知る

The Blazing Blade


(help)
An honorific bestowed upon
the wisest of sages.
知を究めた魔道士の称号
あらゆる魔法と 杖を知る

Radiant Dawn


(class roll, Pelleas, NTSC-U)
The wisest form of mage, they use
the most powerful of magic and
staves. They wield the skill Flare.
??

Radiant Dawn


(class roll, Pelleas, PAL)
Masters of powerful dark and lightning magic and staves. They employ the skill Flare.
--

Radiant Dawn


(help, Pelleas, NTSC-U)
Scholars of all magics who wield
terrible anima spells and staves.
They employ the skill Flare.
??

Radiant Dawn


(help, Pelleas, PAL)
Masters of powerful dark and
lightning magic and staves.
They employ the skill Flare.
--
Trivia
Etymology and other languages
Names, etymology and in other regions
Language
Name
Definition, etymology and notes
English

• Archsage
• Arch Sage

• This spelling is used in The Blazing Blade.
• This spelling is used in Radiant Dawn.

Japanese

• 大賢者
• 大賢者

• Arch sage; used in The Blazing Blade.
• Officially romanized as Arch Sage. In Radiant Dawn, all Japanese class names are spelled primarily in kanji (i.e. 大賢者), with a foreign-language name in katakana applied as furigana (i.e. アークセイジ) and used as the basis for the romanized name in the class roll.

Spanish

Archisabio

Archsage

French

Archimage

Archmage

German

Erzweiser

Archsage

Italian

Arcisaggio

Archsage
Gallery
References
| | |
| --- | --- |
| | This article is part of Project Classes, a project focused in writing articles for every class present in the Fire Emblem series. |