Site News
Warning: This wiki contains spoilers. Read at your own risk!


Social media: If you would like, please join our Discord server, and/or follow us on Twitter or Tumblr!

Engage info: As the game has only recently released, we lack much key information. Please help add any info that you can.
A Chance Encounter
From Fire Emblem Wiki, your source on Fire Emblem information. By fans, for fans.
For the chapter from TearRing Saga: Yutona Heroes War Chronicles, see Saga:A Chance Encounter.
A Chance Encounter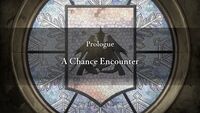 | | |
| --- | --- |
| New units | |
| Boss(es) | |
| Previous chapter(s) | |
| Next chapter(s) | |
A Chance Encounter (Japanese: 偶然の出会い Chance Encounter) is the first chapter of Fire Emblem Warriors: Three Hopes.
Plot
Main article: A Chance Encounter/Script
Six months after the deaths of their comrades, Shez awakens in the woods and chances upon three nobles – Edelgard von Hresvelg, Dimitri Alexandre Blaiddyd, and Claude von Riegan – who are being attacked by bandits led by Kostas. Shez offers them their blades, and the four rout the thieves with the aid of relievers from the Knights of Seiros led by Alois.
In the aftermath, Shez is dumbfounded to learn that they just rescued the heirs to the three great nations of Fódlan. Alois and the nobles insist that Shez accompany them back to their camp for their reward, where Shez meets several Officer's Academy faculty and students. Afterwards, Alois strongarms Shez to come to Garreg Mach Monastery to be paid their reward/hush money.
Beginning log
The continent of Fódlan, said to be protected by a goddess, has existed for uncountable ages. Now, three ruling powers control the land. To the south is a region held for more than a thousand years by the Adrestian Empire. To the north is the Holy Kingdom of Faerghus, ruled by the royal family and its knights. And to the east, a league of nobles that bends no knee rules the Leicester Alliance. Though once consumed in war, these three powers now exist in relative harmony. Nestled between them is Garreg Mach Monastery, seat of the Church of Seiros—the land's widely practised faith, and a power that helps to maintain peace across the continent. Not far from the monastery, at the northern edge of the Empire, is a small village called Remire. And west of this place stretches a forest where a lone mercenary awaits...
Chapter data
Character data
Characters
New Units
Required Characters

Available Characters
None
Item data
| | Name | Obtainment Method |
| --- | --- | --- |
| | Bullion | Automatically upon completing the chapter |
| | White Verona | Automatically upon completing the chapter if an S rank was obtained |
Enemy data
Reinforcements
After defeating the first Fighter:
After seizing the first four strongholds:
NPC data
Name
Class
Lv
#
HP
Str
Mag
Dex
Spd
Lck
Prf
Def
Res
Cha
Con
Mov
Inventory and Skills
Edelgard
Fighter
1
1
2700
12
10
10
9
8
9
9
11
6

Iron Axe




Lance Buster Lv 1

Automatically becomes playable upon engaging the first enemy Soldier.
Dimitri
Soldier
1
1
3600
11
7
11
10
8
9
7
11
6

Iron Lance




Sword Buster Lv 1

Automatically becomes playable upon engaging the first enemy Myrmidon.
Claude
Fighter
1
1
2700
10
8
11
11
10
8
8
11
6

Iron Bow




Lance Buster Lv 1

Automatically becomes playable upon engaging the first enemy Wyvern Rider.
Reinforcements
After the second wave of enemy reinforcements appear:
Boss data
Main article: Kostas
Strategy
This section details unofficial strategies that may help with completion of the chapter. This may not work for everybody.
This is another straightforward tutorial battle that can easily be won by following basic directions. Make sure to always prioritize having Claude attack Wyvern Riders and prioritize giving your melee units weapon triangle advantage.
Etymology and other languages
Names, etymology and in other regions
Language
Name
Definition, etymology, and notes
English

A Chance Encounter

Parallels the name of An Inevitable Encounter, the prologue of Three Houses.

Japanese

偶然の出会い

Chance Encounter
Gallery
---
This section has been marked as a stub. Please help improve the page by adding information.
---
References
Fire Emblem Warriors: Three Hopes
Playable characters
Scarlet Blaze
Ashe • Balthus • Bernadetta • Byleth • Caspar • Constance • Dorothea • Edelgard • Ferdinand • Hapi • Hubert • Ignatz • Jeralt • Jeritza • Leonie • Linhardt • Lorenz • Lysithea • Manuela • Marianne • Mercedes • Monica • Petra • Raphael • Shamir • Shez • Yuri
Azure Gleam
Annette • Ashe • Balthus • Bernadetta • Byleth • Catherine • Constance • Dedue • Dimitri • Dorothea • Felix • Flayn • Hapi • Ignatz • Ingrid • Jeralt • Jeritza • Linhardt • Lorenz • Marianne • Mercedes • Petra • Raphael • Rodrigue • Seteth • Shamir • Shez • Sylvain • Yuri
Golden Wildfire
Ashe • Balthus • Bernadetta • Byleth • Claude • Constance • Dorothea • Hapi • Hilda • Holst • Ignatz • Jeralt • Leonie • Linhardt • Lorenz • Lysithea • Marianne • Petra • Raphael • Shamir • Shez • Yuri
Other
Arval • Gatekeeper • Rhea • Sothis
Non-playable characters
Acheron • Alois • Anna • Count Bergliez • Captain Berling • Cleobulus • Fleche • Margrave Gautier • Getz • Count Gloucester • Goneril • Gustave • Hanneman • Count Hevring • The Immaculate One • The Immovable • Judith • Ladislava • Lazley • Randolph • Seiros • Solon • Thales • Tomas • Count Varley • The Wind Caller (TBA)
Bosses
Acheron • Duke Aegir • Anaximandros • Lord Arundel • Count Bergliez • Bias • Byleth • Caspar • Catherine • Claude • Cornelia • Cyril • Death Knight • Dimitri • Dolofonos • Epimenides • Ferdinand • Flayn • Fleche • Margrave Gautier • Ingrid • Jeralt • Kostas • Kronya • Ladislava • Metodey • Myson • Nader • Pallardó • Pittacus • Rhea • Rufus • Seteth • Shahid • Shamir • Shez • Solon • Thales • Count Varley (TBA)
Personal weapons and regalia
Aegis Shield • Amalthea • Areadbhar • Asclepius • Athame • Axe of Ukonvasara • Aymr • Blutgang • Caduceus Staff • Circe Staff • Crusher • Dahaka • Failnaught • Fetters of Dromi • Freikugel • Hrotti • Ichor Scroll • The Inexhaustible • Járngreipr • Labraunda • Lance of Ruin • Lúin • Ochain Shield • Rafail Gem • Ridill • Scroll of Talos • Scythe of Sariel • Seiros Shield • Shamshir • Spear of Assal • Suttungr's Mystery • Sword of Begalta • Sword of Moralta • Sword of Seiros • Sword of the Creator • Tathlum Bow • Thunderbrand • Thyrsus • Vajra-Mushti • Wind Caller's Genesis (TBA)
Chapters
Prologue

0: Crossed Roads • 1: A Chance Encounter • 2: Three Houses • 3: The Shadows of Adrestia / Crisis in Fhirdiad / The Battle for the Locket
Scarlet Blaze

4: The Struggle Commences • 5: Skirmish in the Fog • 6: Bridge of Betrayal • 7: The Triumph of Valor • 8: The Maiden's Peril • 9: Unrest in Enbarr • 10: Shifting History • 11: Heroic Bloodlines • 12: The Rising Darkness • 13: Severing the Past • 14A: A Clash of Ambitions • 14B: Torment of the Eagle and Lion • 15: The Hour of Vengeance • 16: Into the Chasm • Final: A Path Forward
Azure Gleam

4: To War! • 5: Skirmish in the Fog • 6: Conspiracy in the Air • 7: The King Awakens • 8: The Blood-Stained Lance • 9: Reunion at the Fortress City • 10: Fanaticism • 11: Reprisal • 12: A Trick of the Goddess • 13: Clash of Torment • 14: The Absent Emperor • 15: The Hour of Vengeance • 16: Into the Chasm • Final: The End of Tragedy
Golden Wildfire

4: To War! • 5: The Golden Guardian • 6: The Leader's Stratagem • 7: A Contest of Beasts • 8: What Makes a King • 9: The End of the Alliance • 10: Love and Loss • 11: The Sword Swings Wide • 12: Two Kings • 13: Darkness Attacks • 14: A Symbol of the Past • 15: The Hour of Vengeance • 16: Into the Chasm • Final: Field of Beginnings
Paralogues

The Ashen Wolves' Reunion • Coming Clean • Cycles of Nostalgia • Eagles, Lions, and Deer • Enshrouded Memories • Evil's Bane and Love's Protection • A Grand Day for the Opera Company • An Incurable Shut-In • Like Cats and Dogs • Love and Hate in Wartime • Mercenary Complications • A Night of Wonder • A Noble Among Nobles • Raiders from the North • A Reason to Fight • Right Where They're Wanted • The Saints' Forge • The Seiros Snare • Under the Protection of the Golden Deer • Unsettling Truths • What Lies Within • Wildflowers for the Future
Locations
Fódlan • Adrestia • Faerghus • Garreg Mach Monastery (Abyss) • Leicester • Almyra • Brigid • Dagda • Sreng • Zahras
Groups, objects and concepts
10 Elites • Ashen Wolves • Black Eagles • Blue Lions • Children of the Goddess • Church of Seiros (Knights of Seiros) • Crests (Crest Stone) • Golden Deer • Heroes' Relics • Insurrection of the Seven • Monsters • Those who slither in the dark • Tragedy of Duscur • War of Heroes
Related topics
Music Player • Name chart • Other games (

Warriors

•

Three Houses

) • Pre-release information (Unused content)